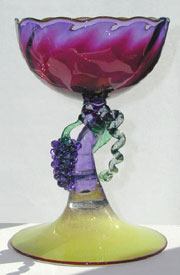 We all know the expression, "the glass is half…"
But how would you finish it? What do you see when you look inside the glass?
Some see abundance which overflowth. While others see the glass as having room for more. And so began the Starbucker Meme, with Terry and his half-full, clear shot glass.
The Starbucker Meme brought out some creative answers like my dear friend Carolyn Manning who keeps two glasses – one full to the brim and the other symbolically empty. Tim Johnson, on the other hand goes back and forth between overflowing and 50% full.
The answer I was waiting most for was Liz Strauss and her hand-painted French champagne flute filled to the lip with sparkly French champagne. No surprise for me, and deeply fitting. Or Chris Cree who said his cup is bottomless – of course he said with coffee, but I know he meant a bit more.
My other two favorites were from Mike Sansone and Adam Kayce. Both, like me, took the idea of 'what's in the glass' to a different level. Mike sees things from a different perspective through his glass bottom boat. While Adam sees his life overflowing through his looking glass.
So I know what you're thinking…"what does Dawud see when he looks through his glass?" So let me get right into the Starbucker Meme:
How full is your glass?
It's ever expanding and only limited by my trust, belief and willingness to change.
What kind of glass is it?
Blown glass
What's in the glass?
All the possibilities you can dream of.
Reasons for #1, #2, and #3
Read on…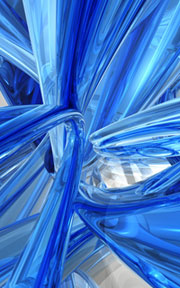 I've always loved blown glass. Not only is it stunningly beautiful. It also illustrates the great potential each of us have inside. Think about it. You take this hunk of glass and put it on a stick. Pretty uninspiring, huh?
Then, you place the hunk of glass into a raging fire to heat it up and burn off impurities. Once it's purified enough, you remove it from the fire and begin forming it into miraculous, endless shapes. Look at the image to right…
Aren't we just like that?
And Kammie, there's the answer to your question about high vibe practices. I spend each day trying to stretch myself, my heart and my consciousness just a little bit. Stretching a taking the time to look at where I could be living who I am and what I believe a little bit more. Those are my high vibe practices.
So I'm wondering what you see when you look inside your glass? I'm going to tag David, David, Gayla, Edward, Chris, Mark, Dave, Katie, Rory, Randa, Mike, Kammie, one more Dave and Lisa. AND, I'd love to hear your thoughts below.