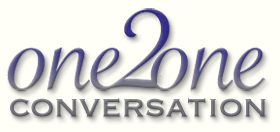 How do you bridge two blogs in conversation?
That's the question Liz Strauss and I kicked around together a couple of weeks ago. And what was birthed is what we're calling a one-2-one conversation. One conversation across two blogs, in two directions between two people.
Here's how it works…
Liz posts a question to me that I answer on my blog which I, in turn, end with a question for her which she answers on her blog. Simple enough, huh?
But there's a twist…you know Liz and I love the conversation we have with you. So we're not leaving you out. You and I get to talk about my answers and my questions here on my blog while she's working on hers. AND we get to talk about her answers and her questions on hers as well. Pretty sweet, huh?
So let's get started on Liz's question for me:
When I go to your blog I get the feeling there's a back room behind your blog where you work. What work do you do there?
I'm going to answer this question in my very next post – which is already up right here.
Now, let's talk. I'd love to hear your answers on this post, the post with my answer, or back at Liz's blog. Either way, join the conversation.