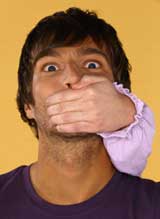 How many times have your read a great blog post and have wanted to add a comment, only to get to the bottom of the page and find that you have to login?
I don't login. Which means, I don't leave a comment. Which means, no conversation and little chance at building a relationship with that blogger.
I think this is a bad idea. So do others. Forcing people to login to your blog just so they can leave a comment is ridiculous.
Think about it for a moment… If you write a blog post, you want people to read it, right? Otherwise, why write it? And if you offer comments at all, you're probably interested in getting some sort of feedback, right? Otherwise you'd be like Seth Godin and not do comments at all.
So why would you make it difficult for me to leave a comment on your blog? Why would you force me to register and login? All that does is setup a number of barriers between you and I; your post and my commentary. Your making me take extra time just so I can share my thoughts on something you wrote on your site. Where's the benefit for me?
If you have a business blog, think about the message you're sending. If you're making it difficult for me to interact with you on your blog, how else might you make our interaction difficult? How important will I really be to you as a client if I'm not that important as a blog commenter?
As you can tell, I think it's poor judgment to make commenters register and login. There's really no benefit for the commenter. It's bad enough they have to fill-in a form each time they leave a comment on my blog. But at least they have the freedom to include what they like.
I've ranted on about this, what do you think? Do you comment on sites that force you to register? Do you force your commenters to register? I'd love to know why. Maybe there's a reason beyond what I'm looking at. Or maybe it's just a bad idea. Let's talk about it…