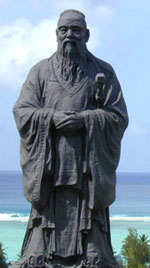 Does being an expert mean you have to know more than everyone else?
Not according to Confucius. He once advised, "When you do not know a thing, to allow that you do not know it-this is knowledge." In other words, we should not only know what we know, but also what we don't know. Hence, it's in knowing what we don't know that we find our expertise.
Yeah, I know, the dictionary defines an expert as a person who has a comprehensive and authoritative knowledge or skill in a particular area. Certainly, that's an expert and I'm not going to argue with the dictionary.
But is there one, supreme expert for any topic you can think of? I can't. Is there someone who knows more about cucumbers than any other human being? And if there were would it not mean that our cucumber expert would know every single detail and every fact that all other human being know? To say they're the supreme expert, I would say so.
But is that really possible? I'm not so sure.
So what am I getting too here? The point I want to make is that there are no true experts in anything. At least not objectively. The only expert on a topic is the one you know. And that expert may not be the most knowledgeable person on the topic.
But to you, they are. And that's the important point. If you have some knowledge in an area, it's easy to deduce that while you don't have as much knowledge as some, you do have more knowledge than others. And to those 'others' that makes you an expert.
Confucius also said, "Ability will never catch up with the demand for it." And neither will knowledge. There will always be someone who knows something more or different than you know. But what you don't know isn't what's important. It's what you know that is.
I like how Seth Godin phrases it in The Dip. You want to be known as the Best in the World. "Best as in: best for them, right now, based on what they believe and what they know. And world as in: their world, the world they have access to."
So to be an expert you don't have to be at the top of the ladder. Nor do you even have to be in the middle. What you need to do is clearly carve your niche. Find the one problem you can help people solve better than anyone else for a specific group of people. Then go about solving the problem for them. That's how you become an expert.
Remember, being an expert "is subjective. I (the consumer) get to decide, not you. World is selfish. It's my definition, not yours. It's the world I define, based on my convenience or my preferences."
As Seth continues, "Be the best in my world and you have me, at a premium, right now."
So know what you know AND what you don't know. And make that your expert niche. And remember what our friend Confucius said, "Real knowledge is to know the extent of one's ignorance."
What do you think? Are there things you think you need to know that your really don't to be the best in the world?