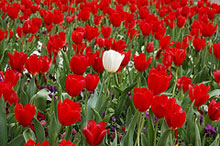 Niche market is one of those buzz terms that gets thrown around a lot. Just about any marketing book, article or blog post worth its weight talks about niche marketing. It's so prevalent that most small business owners would say they've heard the term.
But just knowing about the term niche marketing doesn't mean you know what niche marketing really is. Or how it applies to your business.
Most service-based business professionals I work with and talk to have some idea of niche market. Often, they think of it as the group of people their business serves or the market they target their services for. And while it's true that your market is who you sell your products and services too, it doesn't mean you're selling to a niche market.
There's a number of ways to define niche marketing or niche marketing. Wikipedia defines it as a focused, targetable portion (or subset) of a larger market. The New Oxford Dictionary defines niche as a specialized but profitable corner of the market. Personally (and professionally) I think of niche market from a point of problem/solution. So for me, I find my niche market in identifying a highly specific problem or set of problems that my service solves in a highly specific way.
A comment in a recent blog post gives me an interesting example to play with here. On my recent post, Why You Shouldn't Be Afraid of The Econimic Crisis, I spoke to how highly niched small businesses will be affected much less during turbulent economic times. One commenter, who identified themselves as CSS Gallery (obviously not their name), made the comment that "One niche market that is growing considerably is SEO."
As with all comments, I deeply appreciate the thought and sharing. And it's true that SEO is a growing market. But SEO, in and of itself, is not a niche. SEO is a market. And being a market, you can find all types of focused, targetable portions of the SEO market. So if you're in SEO, your working in a highly unspecific market and with a little effort you could discover the niche market you best serve within the overall SEO market.
For instance, let's say you're an SEO specialist. You've worked with a lot of different types of companies in a number of different markets. But you have a perpensity toward graphic designers. You've worked with a number of graphic designers and understand the market a bit. You've even had some success at getting rankings for the graphic designers you've worked with. You could decide that your niche is in SEO for graphics designers. That would be a subset (niche) within a market (SEO).
But you can go further – and I recommend it. You can look at SEO for graphic designers as a market itself. Now I've said it's a niche – and it is a niche of the seach engine optimization market. But you can also find niches within doing SEO for graphic designers. Let's say, for instance, your SEO track record showed that you got great results working with graphic designers who create logos. You could further niche yourself by providing SEO services for logo designers. And you can go even further with this (and I suggest you do) by defining what type of logo designers you specialize in working with.
You see, the goal is to find the most specific niche you can and market to it. That's how you can dominate a market. The more specific you are in your defining your niche, the more your marketing message (and SEO, by the way) can target that niche's specific needs. That way when the logo designer is looking for SEO and finds you, they'll feel as though you're speaking right to their needs. And when they see that you specialize at working with their type of business, wouldn't it only make sense that they'd contact you?
The key to niche marketing is to find a real niche. By real niche, I mean the subset of the market you serve. Sometimes it'll be the subset of the subset of the market you serve – and so on. The goal here, though, is that you're speaking only to the specific people whose specific problems your services can solve. Find them and you've found your niche.
Are you marketing to a specific niche within a market? Or are you still marketing to everyone?
And if you do have a niche, how have you defined it? And in defining it, how has it changed your business.
Let's talk about it.
(note:  image from  The Jamoker on  Flickr,  

some rights reserved)