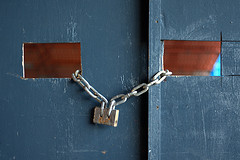 Today it's so easy to get a website to market and promote your coaching or healing practice. Whether you're a life or business coach, a healer, or another type of service provider you'll find no limit to the ways that you can get a website.
And one of the most popular ways to get a website is by using one of the do-it-yourself website services – such as GoDaddy's Website Tonight Service.
Many of these do-it-yourself services sound great. Just think about it, these services let you select your own website design, add your own content, and publish your own website. Sounds pretty easy (though often it's time consuming) What's even better is often the price. Usually for under $20 a month you can have a website.
But what's the trade-off? Is there something you're missing with these cheap packages? Or is there something potentially detrimental to your coaching or healing practice? Do you even own your own website?
The Story of Lisa, Stay-at-Home Mom & Life Coach
Those are some of the questions Lisa and I talked about last week when she called me asking about getting a website for her new life coaching practice.
You can get a business-ready, fully-functional, easy-to-edit website without spending thousands and thousands of dollars.
Now Lisa is a longtime friend. I knew she was training to be a life coach. And now that her coaching certification was complete she want to talk about how to get a website to best promote her life coaching practice.
Lisa is a stay-at-home mom with two young daughters – one in second grade, the other four years old and not in school. She's a mom first and a life coach second. For her that means she wants to have a small number of life coaching clients booked each month, but not so many that she can't care for her daughters' needs. So she doesn't need some large, expensive website. She wants to be able to edit her own content without spending a lot of time, as she calls it, 'being techie.'
After looking around the web her first thought was to use GoDaddy's Website Tonight system. "It's great," she told me. 'I can choose a design, add my own content and then publish it. And the costs are very cheap' " just $10 per month."
Coaching Websites on The Cheap, Oh the Limitations
What she was saying is true – she could get a website for just $10 per month. And GoDaddy isn't the only one who offers services like this. You can get a website from Yahoo! Small Business, SiteBuilder, 1and1 and just about any major hosting company for less than $20/month. Seems like an amazing offer, right?
By price, it may be. But for the average life coach, business coach or holistic practitioner, is it the right option for your business needs?
Well, as Lisa and I began talking about what she wanted to do with her website – both now and in the next year – some things about this $10/mo website became clear.
First, Lisa would have to choose between GoDaddy's handful of designs – all of which looked dated, flat and, as she put it, 'unprofessional and unfinished.'
Second, Lisa would be limited to the colors that were already provided by each of the GoDaddy designs. So she couldn't really make the site feel, in any way like her.
Third, she was limited to a number of pages based on her plan. Need more pages than your package – the monthly fee goes up.
Fourth, because of the colors and layout, her logo wouldn't fit on the designs.
Fifth, she couldn't add the features – like a newsletter signup form – to her GoDaddy website, as far as she could see (though if you pay more monthly, there is a widget system available that will let you add outside web code like forms)
Ask the Most Important Question
Those five she got on her own as we started talking. But was the fifth point – and the most important point of all – didn't come out until she asked me this question:
Most people don't realize that with these services they don't own their website. So they're either stuck with GoDaddy forever or leave without having a website at all.
"Dawud, if I want to stop using GoDaddy, what do I need to do to move my website?"
The Biggest Problem with Do-it-Yourself Website Services
That's when I had to tell her that the biggest problem with these services is that you can't move your website – because your website is not yours! That's right, that coaching or healing website you've put so much of your time and effort into isn't yours – you don't own it. GoDaddy does.
She said, 'What do you mean it's not my website, I'm paying for it?'
It's true, she is paying for it. She's paying for the hosting on GoDaddy's servers and for the privilege to use their templates for her design. But she doesn't own any part of the design itself. So once Lisa stops using GoDaddy for hosting, she loses her website all together. The only thing she can retain is her content. But only if she gets it off "her" website before closing the account.
Most people who use these do-it-yourself services don't realize that if you decide to host elsewhere, be it for development, service, pricing, etc, you loose your site. So in essence, you're either stuck with the service they initially chose or they have to start all over when they want to move.
This isn't a bad situation for a personal or club website. Even for some small, brochure-style business sites it's fine.
But for any business owner – a coach, a healing practitioner, etc – who wants their website to be a hub for growing their business it's certainly less than ideal. Not only do you not own your website, it often difficult or impossible to alter the designs you can choose from to accommodate the needs of your growing business. What's more is that you're forever held captive by the service you're paying monthly – stop paying equals no website.
If You're a Coach, Healer or Other Type of Service Provider, You Must Own Your Website
The bottom line, really, is that as a business owner:
you want to own your website.
you want to be able to customize, update, alter and change your website without limitation.
you want to be able to customize your look and feel of your website to match you so that your audience can get a solid feeling of who you are.
you want to be able to move your website around without penalty if you have poor service from your host (does happen).
you want to be able to easily add new content, pages and make edits any time you want – without limitations.
And as I said earlier, you can get a business-ready, fully-functional, easy-to-edit website without spending thousands and thousands of dollars. Want to talk about how, just contact me.
As a Good Coach, I Want to Be Fair
To be fair, there is one advantage to using do-it-yourself services start up costs. You can often get a website off the ground for a very small investment – usually under $50. This may work well for you if you have little cash flow as you're starting your business.
If you choose that path, my advice is the same to you as to my dear friend Lisa. Get a professionally designed website as soon as you have enough cash flow to do so. The investment will pay dividends even in the smallest coaching practice. Especially if your designer has the skills to help you develop and execute a web-based strategy for growing your business.
My advice: own your website right from the start. Go through the development process with a designer that can really help you craft your site into a marketing hub for your business. You really can't measure the gains from working with a professional.
And, you can contact me anytime to discuss your website needs and how they can get met on for your specific situation and budget. And trust me, the best solution isn't always working with me. The best solution is the one that's best for you. I can help you with that – even if we don't work together.
So, have you used a do-it-yourself website service yourself? What was your experience? How did you find it limiting?
Let's talk about it.
note: image from Alexandra Moreau Photography on Flickr,

some rights reserved)