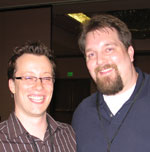 Yesterday, March (oops) May 14th, was Ben Yoskovitz's Birthday. I won't tell you how old he is – I'll leave that to him. But stop by and wish him a Happy Birthday.
And if you have a chance, ask him how the idea for InstigatorBlog got started.
By the way that's Ben and I at SobCon in Chicago this past weekend.