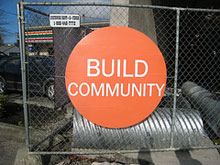 Is your business creating a community that people want to be a part of?
Among the mass of things that you need to consider in running a small business on the web, this question is seldom asked. We spend our time with target audience, branding and marketing strategies. We focus on the design of our website and spend hours editing the copy we put on it. Yet how often do we consider the whether our product or service is something that people really want?
Yet in today's online marketplace, what is it the people want?
Sure, they want great products that meet their specific needs or solve their specific problems. Yet many are also looking for a community. Doesn't matter whether we're talking about large companies like Apple, BMW or Harley-Davidson or smaller ones such as 5000BC or Teaching Sells, people want to feel part of a tribe. They then resonate with other like-minded consumers to form a community.
This is one of the reasons, I believe, that social media has exploded the way it has. People are simply looking to connect with other people of similar interests. With the web and social media, they're now not just limited to local groups. Now, they can find their tribe with other people from all over the world.
In the pre-social web, you would market your products and services to where you audience existed. Hopefully they'd buy, use your product and come back for more.
Now, with the social web, you can offer them so much more then just your product or service. Now you can offer them a place to hang out. You can use social tools to create a community space in your business. This allows people to come, hang out, interact and engage in your business and buy when they're ready. It gives much higher value than just selling. And the added value creates a much more compelling reason for your 'community members' to share you community with people they know – increasing your reach and potentially your business.
As Larry Kramer, founder of MarketWatch, in this short interview (video 3:17):
"Social media is what I call the new 'local.' Where in the old days you'd try to reach people where they are with their town, their workplace, (etc)… . This (social media) is trying to reach people where they spend their time.

People interact…their communities aren't geographically based any more. They're built around communities of interest. And more often than not, you join that community on a digital platform."
[google 5479695765287396234]
This begs the question…are you using social media to create a community around your business? If so, how well is it working? Even more interesting to me and possibly others is what have you learned about your target audience using social media?
And if you're not using social media to create community…what's stopping you?
(note: image from whizchickenonabun on Flickr,

some rights reserved)