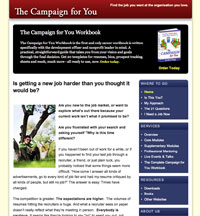 I just completed a new static site at The Campaign for You. Matt Hugg and I worked together to plan, develop and create a site that would easily and clearly market his many offers. For instance, you'll see on the homepage that we highlighted his ebook, The Complete Campaign for You Workbook.
Ease of use for his visitors was a key to the design. No page or service is more than 1 click away from another. His ability to self-manage his content was a vital and necessary part of our project. I used Adobe Contribute as the platform for content management basically because of its ease of use.
Matt, by the way, is a career coach. While he focuses on the non-profit world, his knowledge, tools and materials are applicable in any job/career setting. Matt's concept of The Campaign for You is in teaching you how to treat your own career and job search as a campaign, ultimately finding the 'job you love with the organization you want'.