I've been reading Wendy Piersall's blog, eMOMS AT HOME, for a few about a month now. Since finding it, I've read her posts daily. Her writing is always engaging, informative and helpful for what ever I'm doing. Her 'tagline' sums it up…
It's not about the home business, nor about what you are doing as much as who you are being. Be true to the real you, the brilliant, spectacular, talented and remarkable you, and guess what?
Your business will skyrocket.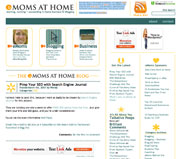 Well, Wendy has recently redesigned eMOMS AT HOME. You've gotta check it out. The site is better organized with lots more stuff. Take a few minutes to check out what's new. I love her
And for all you men who don't think eMom has anything to offer you…think again. Wendy recently shared with me that about 40% of her readership is male. So don't let the name of her site fool you. She's got plenty to help you with. And remember, we've all had moms.
She'll be speaking at SOBCon07. I'll be there. Will you?