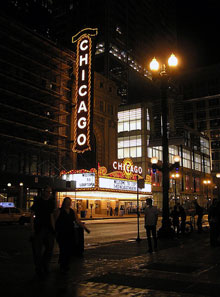 SOBCon08 – Biz School for Bloggers… A report, part 1

Liz and Terry sure nailed it this year. Not only in concept but in execution. Their goal – create an event where business owners and bloggers come together to learn from each other – both about social media and about running a business. In my opinion, much needed and only scraping the surface of what's needed around social media. The weekend was great…here's my experience.
The flight to Chicago on Friday was quick and uneventful. We landed just before a storm rolled in that delayed a number of SOBCon-ers, including Chris Cree and Gorgeous (his name for his wife). I jump on the orange line out of Midway which deposits me, 40 minutes later, a block and a half from my hotel – in a downpour. Cab it or walk…I chose to walk. And when I stepped into Hotel 71 I was drenched.
I get to my room, dry off, unpack and out comes the laptop. I was thinking of a short nap before the afternoon's festivities, but turns out Chris Garrett was looking for a lunch date. Sonia Simone and I join Chris for a stroll down Michigan Ave, a nice chat and a great lunch lunch at Carmine's. Thank God the weather cleared up.
Back at the hotel we walk into a cloud of bloggers. Liz, Terry and bunch of old friends from last year's event. Hugs go all around. I'm overjoyed to meet Joanna Young for the first time. To David Airey: she flew all the way from Scotland.
Lots of faces, new and old. Too many to remember. But I did get a huge hug from my dear friend Wendy Piersall (tell Dave it was great to meet him). Had a great talk with Tammy Lenski – she and I need to do some work together. Then, finally, after months of phone calls and emails, I got to see the communicatrix – Colleen Wainwright in the flesh. She's shorter than I thought thought she'd be – AND big bags of fun. We spent much of the weekend hanging out. Loved her before, love and adore her after. She's a friend for life, I think.
Dinner time was approaching so Adam Kayce and I round up a few people for Indian food at Kypher Pass on East Wacker. Pretty nice food. Nothing, though, like Tandoor Fine Indian Cuisine which Adam and I found last year. It's out in Park Ridge near O'Hare (map) – like Indian food, gotta check it out.
Anyhow, Todd Jordan along with Shashi Bellamkonda & Randy Windsor from Network Solutions joined us. I learned much about Shashi over the weekend. One thing is he loves to take photos. And did you know he was once a chef?
Chicago Cruises and the Chicago Skyline provided the backdrop for our evening. The entertainment…by a hundred bloggers on a boat, Jim Beam (who sponsored the Friday night) and the amazing music of Christine Kane. If you don't know Christine's music – you should. But more on that later. Becky McCray has some great shots on Flickr of Chicago at night. As does Wendy.
Had a great walk and chat back to the hotel with Ruth Marie Sylte. We could have stayed up all night talking politics, spirituality and fixing the problems in the Middle East. But sleep called – especially since I missed that nap (thanks ChrisG).
I'll continue with my in depth report of SOBCon. For now, I'd love to know your SOBCon experience. If you were there, what was one highlight. And if not, what's one thing you would have liked to have taken away from the event if you could have come?