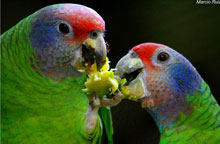 I get asked all the time why a business owner should be blogging or engaged in social media.
The answer I give almost always revolves around creating relationships. If you've been reading a while, you know one of my favorite statements is people don't do business with businesses, they do business with people. So relationships become key to business success.
Before the internet, before social media, much of the business world seemed to focus on producing and selling. You'd produce a product or create a service and do everything you could to get people to buy. In other words, marketing was about peddling what you had.
Today, however, and especially with the explosion of social media, the business world is changing. No longer is business just about producing something and selling it. Now, business is more about communication, relationship, community and innovation. And all this is being driven by the conversations happening all over the blogosphere.
As business owners, this means we need to rethink how we go about doing business. We need to consider and engage in the conversation with people who need what we offer. It means we need to be more concerned with customer service – even before the person becomes a customer. It means that what you share in your business is just as important as what you do.
I found this great little video on YouTube that illustrates just that. It was put together by Charles Leadbeater who's a leading authority on innovation and creativity. Charles's website says he's currently involved in research which "focuses on how mass, user driven innovation is reshaping organisations." If you're in the UK, you may want to check out Charles book, We Think, The Power of Mass Creativity.
One of the quotes from the video that I found so interesting was this:
Communities don't just want to make money, they want to socialize and gain recognition for the work they do.
Would you agree?
Take a look at the video. It's about four minutes long. And at the end, I'd love to hear what you think.
So, are you what you produce or are you what you share? Or both? What are your thoughts?
(note: image from Marcio Ruiz on Flickr)