One thing I can say about myself is I don't stand still much. It seems I'm always to understand more of what and why I think, feel and believe the way I do.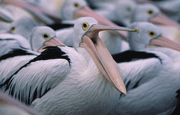 In my personal life, I don't often rest on good enough. Instead, I strive to be a better man, a better husband, a better parent, a better son, a better friend, and a better neighbor. And in my spirituality, I constantly find myself working through issues that limit me from the deepest understandings of my soul and its relationship to my Creator.
In business, it's much the same way. While I know quite a bit about business websites development, marketing strategy and copywriting, I still strive to learn more – always pushing my envelope.
It was just about a year ago that I decide to find out what blogging is all about. So I found out how to use RSS, got a reader and started watching blogs – learning as much as I could from the bloggers I enjoyed.
Now, I didn't 'need' to blog. My business was doing great and I had more still to share with my clients. Yet, I wanted to know what blogging was all about. And soon, I discovered that blogging was, perhaps, the most powerful (or at least accessible) method for building interest in your business then anything yet created. And…you could do it on the cheap.
So I pushed. And now, I have a pretty successful blog myself, my business is thriving, and doors are opening all around me for expansion. To top it off, I've also made some amazing friendships and partnerships with bloggers that four or five months ago I didn't know. Incredible, really.
So when my dear friend Adam Kayce tagged me a little while back asking me about my learning edge, it gave me a chance to think a bit about where I've been and where I'm heading.
In the meantime, I checked out the other folks that have been tagged on this meme like, Edward Mills, Ben Yoskovitz, Jean Browman, Daily Triathlete, Eve, Evelyn Rodriguez, Sue Melone, and the dear Colleen Wainwright from Communicatrix. They each wrote some great posts on where they're stretching.
For me, I've read a fair amount. Though less than I used to with two kids under 4 years old. I read lots of blogs daily and manage a number of great phone conversations each week; constantly exploring how to better build my business (and my client's) through blogging and social media.
I've learned a ton about using social media in the past year since watching blogs – and even more in the past six months since I've been blogging. And so now it's time to push the envelope even wider.
Now I want to bring together the parts of social media – social bookmarking (e.g. del.icio.us, ma.ganolia), social networking (e.g. Linkedin, MyBlogLog, Facebook), social recommendation (e.g. Digg, StumbleUpon, Netscape) and social content (YouTube, Flickr) – together into a program that will help service-based business owners grow their businesses sustainably and with authenticity.
I'm using social networks more and more – learning everything I can about how they work and how they can aid business growth. I've read 15 books on blogging. Most were pretty useless – though I got something out of Clear Blogging, Publish & Prosper, and What No One Ever Tells you About Blogging and Podcasting and Naked Conversations. And, as I've written about, I absolutely loved Lorelle's Blogging Tips.
I've also read a few books on on social media and social marketing such as Andy Sernovitz's Word of Mouth Marketing, Mark Hughes' Buzz Marketing, and, of course, Seth Godin's books and the Cluetrain Manifesto. And I've got Ben McConnell's books, Citizen Marketers & Creating Customer Evangelists, along with Paul Gillin's The New Influencers: A Marketer's Guide to the New Social Media coming from Amazon.
As for blogs I regularly read ProBlogger, Copyblogger, David Armano, Lee Odden, Chris Garrett, Andy Beard and the guys at Pronet Advertising – along with a search responses I find daily in my reader.
In thinking about using social media – social bookmarketing, social networking, etc – who do you read and how has it helped you utilize these services to grow your business?
And to David, Char, Gayla, Stuart, Dave, Dylan, Randa and Chris I'd like to know what you're current learning edge is. Find out more about this meme at Adam's site.