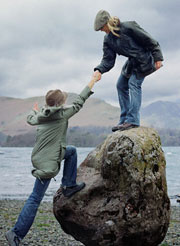 I can't tell you how many calls and emails I get from small business owners who have had a bad experience with their web designer or their marketing coach. It seems so common. Maybe 1 in 3 of the people who contact me do so because they've not gotten what they've needed from the person they're working with.
In the past ten years, I've seen everything: web designers who take the money and run, have ever-increasing project costs, outrageous pricing for simple projects, horrible design (and over design), and just plain rudeness.
With marketing coaches it's a little better. At least they're usually nice to their clients. But usually clients call me because they feel 'boxed in' by a marketing program. They don't feel heard, they're not really getting it, or their coach simply doesn't get how to effectively translate a marketing message to the internet.
All-in-all, I end up bailing people out.
Now, I'm not complaining. I love the business. And I love helping people who really need my help in using their websites to grow their business. Yet, I'm not happy that they've gotten such poor service before they found me. And I'm definitely not pleased that sometimes they've been down right taken advantage of.
That's why I think it's important that you're careful about who your hire to help you with your business. Remember, you're entering into a relationship; one that should help you with your business needs. So to be sure the relationship has a foundation, here's a few questions you can ask yourself in deciding whether a marketing coach or web designer is a good fit for you:
Do I like the person?
Sure, we're not always a good judge of character. But most of the time you'll have a sense as to whether you'll get along with someone. Even the best marketing coaches have personality ticks (as we all do). And sometimes those ticks don't jive with our own. So don't work with someone who you're not sure you can get along with – regardless of how successful they are or what your friends say.
Can we communicate clearly with each other?
Don't overlook this one. Relationships are built on communication. If you and your web designer or marketing coach don't communicate well, don't even consider working together. The frustration and misunderstandings you'll have will just cost you headache and time. You need to find someone who you understand…and who understands you.
Do they care about my business?
Okay, seems trite. But there's a difference between the web designer who's just designing another website and the one who takes a real interest in what you do. The former is just doing their job to make a buck – which isn't wrong by any means. The latter is certainly interested in making a buck. Yet they also take a sincere interest in your success. And you want to work with someone who wants you to succeed.
Do we share a common vision about how my business growth?
You know your business. You may not have crystal clarity around it, but you do know what you do. Your coach needs to clearly understand your vision. They should listen and clearly understand what it is you do and then help you refine your branding, your approach, your message, etc. They need to add to your already developed vision, not take from it.
Am I just a number?
There's a lot of programs out there – both for web design and for marketing and business development – that sort of cookie cut the process. Often, these materials or courses can be highly helpful. But some miss the point of really helping your individual needs. Know yourself and what you need. If you thrive by reading a book or working in a group environment, buy the book or take the course. But if you're someone that benefits most from one-on-one help, spend your time and money getting one-on-one help from a coach, consultant or web designer
Can I learn what they have to teach me?
We all have things to teach each other. The question is whether we can learn from each other? Take the time to find out if you can learn what they have to teach. Your web designer may know code up the yin-yang. But do you really need to learn it? And your marketing coach may be an amazing copywriter. But can they teach what they know in a way you can learn? Whoever you work with, make sure you can learn what they have to teach in the way they teach it.
Can I afford to work with them?
The old adage is true – you need to spend money to make money. I've found that to be true. So the question you want to ask yourself isn't whether to spend money – if you're building a business you need to spend money. Just be sure you have a budget. And also try to get clear what sort of return you can get on your investment. Spending money that doesn't return is one thing. But your budget might be a little different if you consider that what you spend is an investment that can be returned on. Don't be afraid to spend, just be sure not to overextend yourself.
Can they really help me?
This is really the bottom-line question. You want to know inside yourself that the people you hire to help you with your business really can help you with your business. It doesn't matter so much what they can do. What matters is can they do it for you? And can you mesh together to create a successful relationship that will help you solve your business needs.
Someone once told me that a teacher isn't just someone who knows some things. A teacher, to deserve that title, needs to be able to teach you in a way that you can gain from their knowledge. Otherwise, they're not a teacher at all; they're just someone who knows some stuff.
I feel the same way about the people who you work with on your business. Be sure that you can really gain from your web designer or marketing coach. Ask questions and get to know the person, even if it requires a few conversations. If they're not willing to meet your needs before you hire them, what makes you think that's going to change once you do?
I'd love to hear about your experiences with a web designer or your coach. And if you have a good one, feel free to link to them in the comment box.