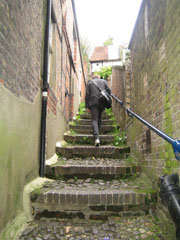 In truth, having a web-based business isn't difficult.
What's difficult is getting really clear about who you are, what you do and who you do it for. The problem is, there are tons of approaches for doing this which sometimes leads to confusion. Do I need to write a business plan? What about vision? Etc. The questions are many, but the answer are endless.
Of course, once you've answered the questions about your business, you have to ask a whole other series of questions around marketing. What system? What mediums? How best to reach our target audience? Etc. This can lead to even greater confusion, frustration and waste of time and money than the business development quesitons.
This whole process can be really big. That's why I'm always looking for ways to simplify it. Because, really, developing and growing a business isn't as hard as we make it. Basically, we need to create a compelling service – one that solves a problem that people need solved. Then, we put our service in front of the people who have the problem. That's really it.
So it's really very simple – especially with the internet.
That's why I was excited when I found Matt Cutts' 3-step process to building up a really good site (read: business). Take a watch:
Matt Cutt's 3-Step Process
Create a compelling service – spend the time to create something people can love.
Start a blog – get links and engage in conversation.
Smart marketing – SEO and have something interesting to say.
Pretty simple, right?
So if I was taking Matt's 3 steps and putting them in my language, I'd say:
Create a service, you love, that solves a problem that needs solving. What are you good at? What do you love? What is the need? Bring these three questions together and you're on your way.
Start a blog – and learn how to use it. First write, and write often. Join in the conversation on other blogs immediately. Learn about linking and link often. And really learn how to use one of the social networking sites. You can get to the others later.
Get the word out and be authentic – Matt says if you use WordPress, much of your SEO is handled for you already. I'd say 80%. The other 20% is in the details. So worry less about SEO in the beginning and more about the quality of your content. And have something interesting to say – but say it in your way. Be a real person because it's people that people want to do business with.
So if it's this easy, why don't more of us do it? What gets in the way? And why do we make it so difficult?
What do you think?
(note: image, Joe Walking Up The Steps from hip.kids on Flickr)