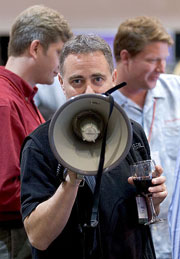 Want to know one of the biggest secrets to social marketing? It's really quite simple…
People share things they find enjoyable, helpful or interesting with people they know. In other words, people pass it on. That's what social marketing is about – passing it on.
But sometimes we forget. We're rushed or tired or just 'messing around' on the web and we may not think to always share things we find with people that might like or benefit from them.
So why not remind them? And when you remind them, make it easy.
Andy Sernovitz, author of Word of Mouth Marketing: How Smart Companies Get People Talking, and one of my favorite marketers, suggests just that. In is book he suggests:
Someone is on your website, looking at something that you are selling – and they feel the urge to tell someone else. Make it easy. That person is about to advertise for you, for free. Or they need to ask someone a questions before they buy, Or they just like what they see. Do whatever it takes to let the word of mouth happen.
I couldn't agree more. Make it easy for people to share what they find on your site, on your blog and in your products and services sections. Really, everywhere. You never know where people will be on your site that will inspire them to share with a friend. So make it easy.
On page 124 of Andy's book, he offers the secrets to creating effective tell-a-friend forms:
Make it fast.
Design a form that can be filled out in less than 15 seconds. Get rid of optional fields, passwords, or anything that gets in the way of the referral.
Ask for several referrals.
Be sure to explicitly ask users to forward the message to multiple friends. The more you ask, the more you get. Design the form so it is easy to add lots of names without confusion.
Use the sender's name.
When you deliver the message, make sure it is from the referrer, not your website. The recipient isn't expecting mail from you and might delete it. He will open a message from his friend.
Include a personal message.
Let the sender add text to the message. The referral is far more powerful when the talker gets to put it in his own words.
Make it forwardable.
Take a look at the message that recipients get. Is that message a ready-to-go viral email, or is it some cryptic link?
Protect privacy.
And brag about it. Be clear and explicit that you respect the privacy of the senders and recipients using the form and that you won't use their emails for any other purpose (and stick to what you promise). Usage will skyrocket when you do this.
Just to drive the point home a little more, here's a short video I found of Andy talking about how tell-a-friend is worth 1.6 billion dollars.
How do you ask people to pass it on? Oh yeah, and by the way, please feel free to share this blog with anyone you'd like.

(note: image from Duncan Davidson on Flickr)