People want to do business with people – not businesses.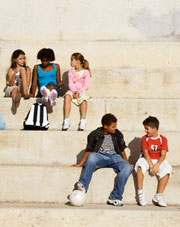 A few business owners seem to get this. But don't seem to get it, though. It makes me wonder how business owners see themselves relating to their target audience.
Perhaps that's the first mistake…target audience. What image do you create when you hear the term target audience? For me, I'm looking off the deck of a boat at an expansive sea whose swells ebb and flow. What I don't see are the individual drops of water that make up the sea. In other words, I don't see the individual people in the term target audience. I can't imagine I'm alone.
Most marketing copy I read today does one of two things: It either tells me all about what 'you can do for me;' or it tries to make me identify the problems I face. Both work to some degree. The former by being straight forward in what we offer. The latter perhaps more so by getting me to feel that you understand me and my problems and, thus, can help me solve them. Yet I think they both miss the boat.
Why? Well, neither are really about having a conversation. When you just tell me about your business, there's no room for me because it's all about you. And when you make it about me and the problems I face, it's still from your perspective. You're not there, in it, with me. And if you were once where I am, it's difficult to recapture the difficulties I face when you're no longer in them.
I think that's what Colleen Wainwright, the Communicatrix (gosh, I can't help by love that name), was getting too when she wrote this comment on a recent blog post of mine around having the conversation with your niche.
Most of the time, people are thinking about what they want to say, rather than the people they're going to say it to. You can't possibly have a conversation with your customers (or anyone else, for that matter) over the sound of the projector running, if you catch my drift.
And that seems to be the crux of most marketing content I see today. Not all, but most. Business owners seem to spend more time being concerned about what they want to get across to people than they do considering what people want to hear. Yet giving them what they want and need is the key to being successful.
So how do you do that? Make it a conversation. Instead of being so concerned with getting all the right content so gingerly placed so perfectly on the page, engage in a conversation. When you write copy, think about it like you're sitting down with someone referred to you from a friend. First, listen to them. Figure out what they need. Then speak (or write). But do so as you would in a verbal conversation by adding to it, not trying to turn it into something you want.
You may be the expert on your topic and the referral may be coming to you. But they want to feel honored, cared for and listened too. They want their opinions to matter. And they want to know that what they know has value and merit.
Just remember, your target audience is made up of individuals. Engage them as such and you'll be doing business with people instead of a trying to reach a marketing buzzword.
What do you do to engage individuals in your business? How does your blog serve the conversation and how has it helped build relationships?
P.S. …I just found out that today is Colleen's Birthday. Stop by and shoot her a b-day wish.