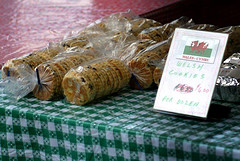 Most of the the small business owners I work focus an abundant of time on their marketing. They put tons of effort into crafting their marketing message, polishing their marketing funnel and fine-tuning how they generate leads. And often, they do so before any of this produces new clients.
Marketing your business is a really good idea, don't get me wrong. However you choose to do it, marketing is a vital part of your business. As a matter of fact, marketing your services is something I teach my clients to do more effectively every day.
Yet I find that there's a hole in the thinking that "all you need to do is effectively market your business."
You also need to sell!
Now I know that for some marketing covers selling just as it covers distribution and delivery. Yet I so often see marketing gurus focusing all their time on the preliminary aspects of marketing – clarity of message, target audience, demographics, psychographics, methodology, etc. Seldom do I see marketing coaches get into the specifics of selling.
But more importantly, so seldom does the average business owner see selling as a part of marketing. More often than not, they believe that if they communicate their offer effectively that people will just buy their service. For instance, the majority of the service providers I've run into – either as prospects and clients or through a large network of friends, associates and partners I offer help or advice too – see the importance in communicating their offer. And they understand what systems they want in place once the prospects enters their funnel.
But what they seldom focus on is the conversion process – when the prospective client becomes an actual, paying client. That's where selling comes in.
What many don't consider is that while there's a process for marketing, there's also a process for converting; for selling. And while there's numerous, effective processes and methods for both marketing and for sales, neither make a successful business on their own. It's hard to sell your services if you don't draw prospective clients in through your marketing. Just as you're not guaranteed a large number of prospects converting to clients without clearly knowing how you sell to them.
To drive the point home consider if I told you, "An effective marketing campaign should lead to increased sales and more clients." Without a hitch, you'd agree, right? I mean, that's the whole point, isn't it – the better your marketing the more you sell and the more clients you have.
Well, effective marketing is like having a bus drop off thirsty people in your driveway. They've searched, they've found you and they've journeyed to your home because they trust you can satisfy their thirst. But just because they're standing in your driveway doesn't mean they'll get to drink. Some will, sure. But many will just stand there waiting for some guidance. Selling is guiding those thirsty people to the well in your backyard, hoisting the bucket from the well, pouring them a cup of fresh water and handing to them to drink.
In other words, selling is a process as well. It's the process of guiding the people your marketing brings to your business into becoming clients. So how you sell your business, how you convert your prospects, is something you need to consider in order to get more client, increase your business and generate more money.
So, how does your marketing process differ from your sales process? Does it? And if you're getting people to engage your business, how could you more effectively sell to them?
Let's hear your thoughts!
(note: image from Ward_ on Flickr,

some rights reserved)