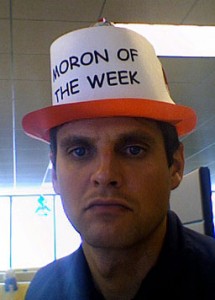 I was thinking this morning about what makes a great relationship.
According to James from Audio Mecca, it's necessary to accept "that the other fellow is not a moron."
I keep saying again and again that conversation leads to relationship and relationship leads to business. No matter whether we're talking about clients and customers, referrals and affiliates, partnerships or friends – it all begins with building relationships.
That's why I find James' comment so interesting. It's true! We need to believe that the people we get into conversations with, and ultimately building relationships with, are not idiots. Don't they have a point? Aren't their comments, perceptions and ideas important in some way?
If they're not, why are we in the conversation with them in the first place?
When I think about all of you who have commented on my blog, for instance, I can't think of any instances when I thought someone was an idiot or a moron. Really, I'm not just saying that. But that doesn't mean every comment I've seen has been a highly intelligent one.
Yet I know that people (read: me) sometimes say things that are off-beat a little bit with how they feel or what they think. I know that sometimes in trying to explain something we can just get way off track and start sounding like an idiot. But does that make us one?
Maybe it does…What do you have to say?
Let's be honest…do you think the readers of your blog are morons?
How about the people your customers and clients? Why/why not?