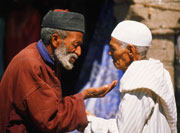 Is marketing about transactions? Is it about communication? Is it about conversations? Or is it about relationships?
Of course, marketing isn't about one thing in particular. Yet marketing tends to focus on one, specific outcome – often the transaction. But what happens if we only focus on marketing as, say, a transaction? Who benefits?
Here's a great story a friend of mine shared with me. It's a conversation between Doc Searls and a Nigerian Pastor named Sayo. It begins with Doc explaining the chapter he and David Weinberger wrote in the Cluetrain Manifesto called Markets are Conversations…
…After hearing (about 'markets are conversations'), he acknowledged that our observations were astute, but also incomplete. Something more was going on in markets than just transactions and conversations, he said. What was it?

I said I didn't know. Here is the dialogue that followed, as close to verbatim as I can recall it…

"Pretend this is a garment", Sayo said, picking up one of those blue airplane pillows. "Let's say you see it for sale in a public market in my country, and you are interested in buying it. What is your first question to the seller?"

"What does it cost?" I said.

"Yes", he answered. "You would ask that. Let's say he says, 'Fifty dollars'. What happens next?"

"If I want the garment, I bargain with him until we reach an agreeable price."

"Good. Now let's say you know something about textiles. And the two of you get into a long conversation where both of you learn much from each other. You learn about the origin of the garment, the yarn used, the dyes, the name of the artist, and so on. He learns about how fabric is made in your country, how distribution works, and so on. In the course of this you get to know each other. What happens to the price?"

"Maybe I want to pay him more and he wants to charge me less".

"Yes. And why is that?"

"I'm not sure."

"You now have a relationship".
Their conversation goes on to talk about the importance of relationship in public markets. "Transaction still matters, of course. So does conversation. But the biggest wedge in the social pie of the public marketplace is relationship. Price is less set than found, and the context for finding prices is both conversation and relationship. In many cases, relationship is the primary concern, not price."
What do you think? What's the reason behind your marketing? Is it just to land business? Or is your marketing about something else? Or both? I'd love to talk about this…