I get this question a lot from people. I guess I've been fortunate enough to meet so many bloggers that it's hard to say. Would I like to meet Darren Rowse or Brian Clark? Sure. I'd love to look them both in the eye and thank them for everything they've taught me about blogging.
It'd be great to meet Seth Godin – oh, wait, I did meet him last summer when he was on his book tour for The Dip. Great ideas, nice presenter, but didn't find him too engaging personally. Maybe it was the setting.
I've also had this odd fascination with Robert Scoble, though truthfully, I'm not sure why. Maybe he just gets it in a way I'm still trying too. Or the authors of the Cluetrain Manifesto. That book solidified how I look at business and it'd be great to bat it around with those guys a bit.
Gosh, really, there's tons of bloggers I'd like to meet. After all, I'm blogging because I love the conversation. I love to learn. I love to share what I know. I just love meeting people. People from all walks-of-life. I want to hear their stories and learn from their experiences. So really, there's tons of bloggers I'd like to meet…
Like you!
But since in our last one2one conversation Liz asked me who's the person I'd like to meet, I'll go ahead and choose someone.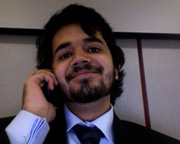 But you know, the blogger I'd like to meet most at this moment is someone I should have met last May at SOBCon07. He was there. I saw him around. We just never got a chance to meet. Who is it? Muhammad Saleem. Why? Because this guy knows social media and I'd love to pick his brain.
I'd call him a social media expert. Just take a look at what he writes on his own blog, [muhammad.saleem] or at Pronet Advertising. Or check out his numerous guest posts on sites like The Blog Herald, Copyblogger, Search Engine Land. And don't forget to search for the huge number of interviews he's given around social media. He's even a top Digger and one of Propeller's "professional social bookmarkers."
Really, just follow this guy's trail and you'll learn everything you'd ever want or need to know about social media, social networking, social sharing, social marketing, etc. Maybe I don't need to sit down and pick his brain.
Nah, that wouldn't be any fun now, would it? Not to mention, I'd miss learning who Muhammad, the person, is. And that just wouldn't be any fun.
So is there a blogger would you most like to meet? Who? Why?
And for Liz, since this is a one2one conversation…
What's one way you'd say social media has changed the way you do business?
Of course, when I'm asking Liz, I'm asking you too. So please, answer away. And Muhammad, if you happen to stop by, I pose the same question to you.