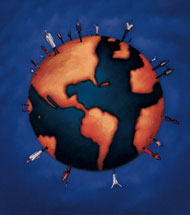 What are you gaining from social networking?
For some, social networking is a way of life. They use it to promote themselves and keep the channels of conversation and relationship open, posting many times a day on many different networks. Some are even building their own.
For others, though, social networking is just a time waster and offers no real benefit to their business or blogging. Some have even gone as far to say that having a large network is all about ego.
So what do I think?
I think social networking is a tool – just as a blog or a website is a tool. The tool on its own is neither good nor bad. It's how the tool is used that decides its value in your business or personal life.
You know the old saying about a knife. A knife can be used to cut the bread to feed people. Yet that same knife can be used to kill people. But is the knife bad or good? No, it's just a knife. It's just a tool.
Personally, I don't think social media is a waste of time. And I'm certainly not doing it to boost my ego. I'm interested in conversation and relationships. So outside of my blog is there a better place to spend my time building relationships?
Social networking is just a tool. How are you using this tool?
Feel free to add me to your social network and I'll reciprocate:
Facebook • StumbleUpon • Netscape • MyBlogLog • LinkedIn • Pownce • Twitter • BUMPzee