Are you blogging to build relationships? I sure am. And so are many other bloggers.
Sure, if we're blogging, we probably like to write. We also probably enjoy playing on the internet to some degree. And for many of us, we've got businesses to promote. Yet the reason many of us blog is to create conversations. And those conversations lead to relationships with people from all over the world.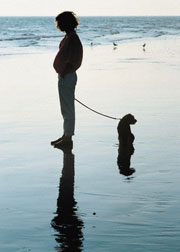 Just imagine how disappointing it'd be to have your posts generate conversations that lead bloggers to contact you only to have you drop the ball by not responding. This is like inviting someone to a lunch where you spend the whole time talking to someone else on your cell phone. Not the way to build a relationship.
Bloggers want to reach out. They want to get a viceral feeling for who you are. Doing so takes a little courage on their part. And not following through sends the message that you just don't care.
So, here are five quick-and-easy ways to be sure you don't make the biggest mistake in your blogging relationships:
Reply Immediately by Email
Sending a two sentence email right away that thanks them for contact you is can send more of a positive message than a well crafted longer message two days later. The immediate response makes the other person feel like they're important to you.
Send an Instant Message
If they publish their IM Screen Name, use it to contact them as soon as you can. Sometimes this can lead to a brief virtual conversation that can be picked up later.
Set an Appointment
Even if you're busy, take a few moments and respond to their message by inviting a time to talk later. Scheduling an appointment time for a brief (or lenghthy) conversation can be an effective way to meet them without stopping your current work flow.
Call Them Out of the Blue
If you have the time, respond with a phone call instead of an email. This can create quite the impression. I once had a well-known blogger send me an email saying that she was going to phone me at '1 pm today.' She did and we had a great talk.
Be Honest About How Busy You Are
If you're really busy and can't get a bit of time away, let them know. People understand. A polite message letting them know that you'd love to meet them soon, but you're currently under a deadline crunch can easily get the point across without seeming like a blow-off.
If you're blogging to build relationships be sure to respond to people who contact you. Not doing so will send the wrong message.
Have you made the biggest mistake in your blogging relationships? How have you made up for it? What do you do to not make the biggest mistake?
There are, of course, plenty of other mistakes you can make with your blog. Here's a few other posts where people have offered up the wisdom of their own experiences…
The Top Ten Blogging Mistakes I Made In My First Year – eMomsatHome
10 Common Blog Writing Mistakes and How To Fix Them – Rich Minx
10 Blogging Mistakes I've Made – Webomatica