I recently wrote a post for Darren's latest Writing Project called 5 Inspirational Quotes for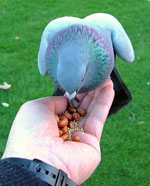 Conversational Blogging. It sparked a great conversation from people such as Shelly Kneupper Tucker, Jean Browman, Eli James, Mr Besilly, Derick from Reader Meet Author and a number of other folks.
Of course when I wrote the 5 Inspirational Quotes post, I couldn't stop at 5. And I can't seem to stop even now. So here's another one…
William Osler, 19th Century Canadian Physician and one of the 'great icons of modern medicine' once said:
We are here to add what we can to life, not to get what we can from it.
When I read this I think about all the things I do in my life where I have the opportunity to give. What can I do to make a better world for those around me? What am I here to add?
And with my blog, I think of the conversation…what is it I can add to the conversation?
What are you here to add? To life? To your work? To blogging? To the conversation?
(photo is a public image in flickr)