I have a confession to make…I've been confused lately. I've lost my focus. I've started writing posts that weren't about the conversation I want to have with you. I've been a bit more preachy and perhaps slightly authoritative lately.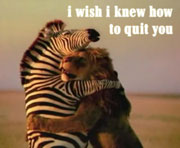 But that's not me. Well, okay, part of it is me (oops, couldn't resist) or I wouldn't be doing it. But there's another part of me (just kidding). The real me, the authentic me, wants to chat with you; wants to share with you; wants to engage you in a dialogue about whatever topics are moving both of us. And I want to make it easy for you to share with me.
So thanks to Seth's little book, and a short coversation with Liz, I've decided it's time to quit.
Quit blogging? No! Quit having conversations and wanting to building relationships with you? Hell no!
But it is time to quit writing like a reporter who's trying to inform you of something or teacher whose trying to teach you something. That's boring. You can find that everywhere. One more blog like that isn't going to make a difference.
What I feel can make a difference, though, is for me to remember to talk with you. To invite you over for coffee and a chat. To open my heart and share with you my experiences – along with my views, opinions and knowledge. To let you know me – Dawud.
So what did I learn when I went to see Seth Godin speak yesterday? I learned to quit. I learned to evaluate when it's time to quit something and when it's time to stick. I never thought quitting would be a key to success. But it makes sense now.
What do you think? Quitting seems to go again success, doesn't it? Yet is there something you can quit that would increase your success?