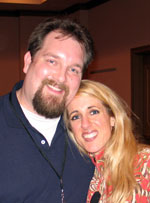 No, really! I'm going to be writing for eMoms at Home. That's right. Wendy has asked me if I'd share my insights and open coversations around being a work-at-home eDad. Of course I said, "yes!"
Most of you know already that I'm married and have two young kids – with a third on the way. And if you've been reading a while, you'll may remember that my ultimate goal is:
To aid people, from every walk of life and every faith, to open the door to the truth of their existence. Not to my beliefs or existence, but to find it within themselves and authentically live their truth in their daily life. (read full post)
Sometimes I get into deeper issues here like the deeper wisdom behind things, our life's perspective or your contribution to the world. But mainly we discuss social media, web-based business development, website design and marketing. And I definitely hope I've helped you.
Rarely, however, do I write about being a solopreneur eDad, who has to deal with all the ups and downs of working from a home office. There are times, like the story of my three-year-old daughter helping me with a coding bug. But those have been few and far between.
Now, with eMoms, I'm going to have the opportunity not only to share more of my business knowledge, but also write and discuss what it's like to be a work-from-home dad parent. On eMoms, I hope to help eParents live a slightly better, richer and more rewarding life – in any way I can.
I'm quite excited about this opportunity. And I hope you join in the conversations over at eMoms. It ought to be fun and, hopefully, informative.
And no worries. I'll still be writing here, at dmiracle.com, as often, or even more, then before. I love my blog. And I love all of you who read and join in the conversations here. Thanks.