Last week was an interesting one.
It all began on Tuesday with a post I wrote called, How Does Your Brain See Color. The post wasn't so much about how we actually see color as it was about how we make associations instead of seeing what's really in front of us.
As I usually do, I submitted the site to a number of social sharing sites like del.icio.us and StumbleUpon. I also submitted it to Netscape. Well, my little post got hot on Netscape – reaching the front page in a matter of minutes. It kept climbing steadily all the way to the #2 position – where it stayed for about 6 hours – getting about 10,000 hits per hour – and stretching the capacity of my server.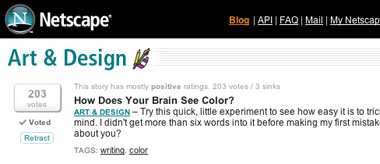 Then it hit #1 on Netscape and flood gates opened. Soon I was getting 20,000 hits per hour and climbing…until…my server account was overloaded and my site crashed.
Even with my site down, my post remained #1 on Netscape for the next 15 hours. My hit rate also stayed above 20,000 that whole time – even with the site down.
Obviously, I wasn't happy that my hosting wasn't able to carry the load. Okay, wasn't happy is a understatement. It actually consumed me on Wednesday – where much of the day I was in the #1 position.
By late Wednesday night, more than 24 hours after I submitted my post to Netscape, I was off the front page. But the hit load didn't drop off too much. Even being off the front page, I was still drawing 14,000 hits per hour – too much, still for my site to come back up.
My site finally went back up sometime on Thursday. And I had spent two days working with my host, tracking the status of my account. Really, I was exhausted from the whole experience.
And, yet, I'm glad I went through it. Now, I'm working on making adjustments to my hosting account so that I can carry a huge traffic load like that. I'm also re-evaluating each of the WordPress plugins I use, which are pulling system resources with each request to my server (the fewer requests, the better). And so I should soon be ready for Netscape's homepage again.
So if you were curious, that's what happened to my blog and I last week. That's why my site was down. And that's why I couldn't communicate about it with you. And, I wasted so much time with my host while my server was down, that I got a bit behind on my client work – which left me with no time to write at the end of last week.
To everyone who emailed or phoned me about my server being down – thank you. I'm truly moved by your caring. Here's hoping that we don't go through this again.
So, when have you experienced lots of traffic not being a good thing?