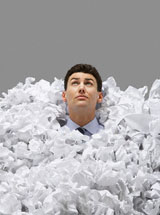 As you know, I've been away for a while remodeling our home in preparation for our new baby and then welcoming our latest Little Miracle into the world. So I haven't "officially" worked or blogged in weeks.
For a moment, imagine the mountain of voicemail, email and blog posts I came back too.
The first few days I was back in my office, I have to say, were overwhelming. It took me almost an entire day to just to listen too, make notes on and begin wading through all the voicemail.
And email…do I even need to go down that road? I hadn't checked my email at all in three weeks, at one point. That stretch, alone, left me with 1,500 messages to sort through – not including spam. I started sweating as I watched the number of new messages keep climbing in my various inboxes and folders. Needless to say, I didn't even try to get through them. All told, I had thousands of messages waiting for me when I returned. Not through them all yet.
Then, there's the 190 or so feeds I regularly follow in my reader.
I'm usually quite judicious at going through my reader; looking for the most interesting and useful post titles. When open my reader daily, it takes me less than an half-hour to scan and partially read all the posts on 190 feeds. But that's usually a few hundred.
What do you think happened when I didn't check my reader in a month? Same as email…but worse. Thousands of posts sitting unread in my feed reader. I know some of them have to be great. I know that some of them have to be helpful. What's more, I know reading some of them would help me as a blogger and a business owner.
But there's just no way I have the time to wade through all those posts to find the jewels.
My option…just not read any of them. Let them all go. Mark them all as read. What I missed, I missed. Simple as that.
I does pain a bit. But I guess that's just comes from being afraid I'll miss out on something amazing. And, well, I haven't really. Information that's that good will be back around. And I've certainly not missed out on the important things…like family.
Anyhow, when you've gotten way behind, what have you done to catch up? Have you slogged the mountain of email and lived to tell about it? How?