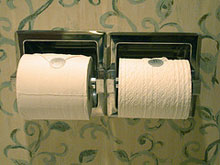 Owning and operating a small business is pretty easy, in all honesty.
Think about it for a second: you find something you do well and offer it to people who you believe need it. That's it. That's all you have to do to have a semi-successful business. Doesn't matter whether you're selling toothbrush holders or marketing advise. It basically comes down to what you do well and who needs it.
Most small businesses get this – at least partly. They almost always understand the 'what' part of the equation They know what they do. And they can go into great detail explaining it to you. But most forget the second part of the equation – the 'who' part.
Who is so important that I'll go out on a limb and say that if you're not focused, highly focused on who – that is who needs what you have – then you're likely not very successful. Moreover, if you have been successful without focusing on who, then you're lucky. And luck means one of two things – either your business will dry up or you're only getting a tiny portion of what could be an enormous business. Either way, the solution is to focus on who – who does your business serve?
So let's look at a couple of different approaches to how we might go about finding who:
You can ask a question like, "who is it that needs what you have to offer?" Ligitimate question, right? You sit down and consider where the people are who need what you have. You might ask friends or colleagues. You might even hire a marketing expert to help you 'find them.' You can take this approach and you can be fairly successful. Though I have to say there are more obstacles to finding out what your audience really needs. Not to mention the time you spend trying to find the people who need what you got, can be daunting.
Another option is you can ask people what they need. If you're clear on what you can offer, then find out what people need. You do this by asking them directly. Find people who might be among your target audience and ask them a few questions about what they believe they need. On the web you can do this easily with a short survey. Drive people to the survey and capture the results. People will almost always tell you what they need. Then, adjust your offer so that you're meeting them where their need is.
The second option is the one that saves time, effort and resources. It helps you position your business to create more sales faster and for a more sustainable time. Knowing what your audience actually wants creates a familiarity between you and your prospective customer by them feeling as though they're needs are understood a bit by your business.
Marketing has always been about placing what you do in front of the person that needs it when they're in a position to buy. You can give yourself a leg up on the process by finding out what people need – from their own mouths. Doing so, you remove a large portion of the guess work. And then, you can truly deliver the product or service that they know they need.
How have you learned what your audience wants? Have you asked them directly? If so, how has this changed your development process?
And if you're not asking your audience directly for what they need, what's one thing   you can do today to begin?
Let's talk about it.
(note: image from anyjazz65 on Flickr,

some rights reserved)