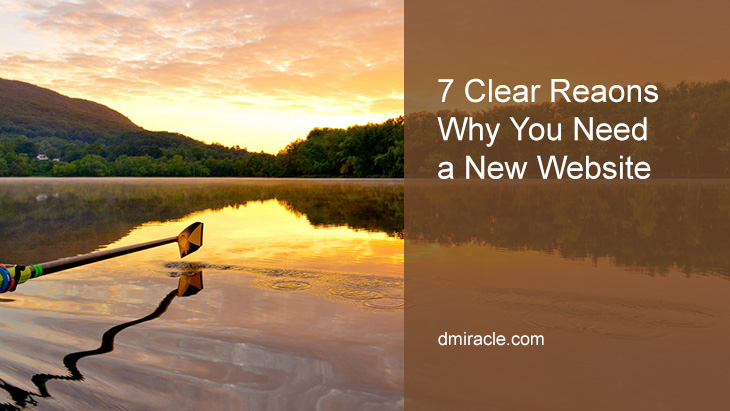 Just like any other technology, websites become obsolete. And when they become obsolete you'll need a new website.
Here's 7 ways to know whether you need a new website or not.
Reason 1: Your website isn't mobile friendly.
Two words: BIG DEAL!!. Here's what you need to know – 50% of all web traffic AND 60%+ of all search queries are being done on mobile devices. You're giving 50% of your visits a very poor experience. And Google is penalizing sites that aren't mobile friendly. There's your top reason. Don't sleep on mobile. The numbers are increasing on mobile every month and decreasing on computers. The themes I'm working with are 100% mobile friendly.
Reason 2: Your website is 3 years old or more.
First, ready Reason 1 because it's very unlikely your site is mobile friendly. Aside from that, websites have changed greatly with wider designs, larger fonts and cleaner homepages. We're moving away from all the clutter and toward simplicity. Why? Because that's what website visitors – your visitors – want. All the themes I'm working with are clean and modern with larger text and more than ample white space. Get a refresh for your site and kickstart your business.
Reason 3: Your website is not on WordPress.
Today you have to be able to edit your own content. And to do so without dealing with code. WordPress makes editing your content so simple and easy I usually teach people how to do so in about 20 minutes. Heck, to create a new page is only 2 clicks (and a little typing). But most importantly you need to be able to change your text when it's called for without waiting weeks for your web designer – if they're still in the picture – to make those updates. Finally, the cost savings of being able to make updates yourself can be significant. I have a client who calculated that in the last 18 months she's saved more than $1250 by making her own content updates. I will show you how to use WordPress to manage your content.
Reason 4: Your current website design is tired and dated.
I can't emphasis this enough. Old looking websites simply don't perform as well as more modern looking ones. There's no way around this. When your site looks old and dated your visitors often assume you may not be in business anymore. After all if you were in business wouldn't be using a more up-to-date design. Your visitors may not be able to describe what a modern design looks like. But all the testing proves that they can identify modern looking sites when shown. Maybe as important, they can clearly identify outdated website looks like. This offer is a great opportunity to bring your design up to date. And the great part, I'll do all the techie work.
Reason 5: You don't have a website yet.
This is really an offer for you. If you have a business – or are starting one – you need a website. The U.S. Small Business Association says that businesses without websites are 3 times less likely to attract new clients and customers when compared to businesses with websites. And that doesn't account for people using Google instead of the Yellow Pages. Notice how your phone book is getting smaller every year. People searching online for business is why. So you're doing yourself a massive disadvantage is you don't have a website. Here's the opportunity to get an elegant, modern website for a tiny cost.
Reason 6: Blogging – don't skip this one – it's important.
If you don't have a blog ON your website than you're missing out on the number one way you'll get people to your website – your content. What we now call content marketing is how you get search rankings. It's how you get social media traction. It's how you get visitors. It's how you promote your business online without buying ads or constantly trying to sell. You want a blog – even if you only write monthly. And you want the blog on your website – not linked to it. This offer gets you a blog. And if you're blogging somewhere else, we can very likely import your blog posts to your new site (there may be a fee to the import, but we'll talk about it first).
Reason 7: WordPress is forever expandable.
So, yes, WordPress is so powerful that it deserves a second mention. The important thing here is that WordPress has the capacity to expand to meet all your future needs. There's no limit on how many pages or blog posts you have (I mean millions). There's thousands of plugins that will add any feature you want to your site. You can make WordPress into a membership site or have a shopping cart to sell products. You can even turn WordPress into a social network similar to Facebook. Really, the possibilities are endless. So consider that the site we start now can grow with your needs. WordPress even makes design changes simpler.
So, there's 7 major reasons to get a new website. If you fit into 1 or more of these reasons, perhaps it's time for a new website.
Do you have any questions about your website? Leave me your questions in the comments section and I'll answer them.