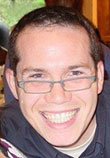 Staying with the Phil Gerbyshak theme…
Last year Phil asked for your help to reach 200 blogs with links back to him. He made it, having 231 blogs linking back to him by the first of the year. And, he met 30 new bloggers.
Apparently, Ben Yoskovitz has challenged Phil to 'go big or go home.' So now he's shooting for 2000 bloggers to link back to him by Jan 1, 2008. I enjoy Phil's blog a ton, so I'm going to help him out as much as I can. You can help him out as well. Simply…
Link back to: http://makeitgreat.typepad.com
One further goal Phil has with his own "2000 bloggers project" is to meet, in person, 150 bloggers this year – AND take pictures with each of them. Now Phil should get pretty close to that number just speaking at SOBCon07, in Chicago in May. But he's said he wants to meet 25 bloggers that are not at SOBCon07.
So how can you help Phil Make It Great!?