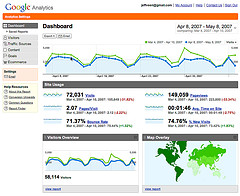 You might know that Jeffrey Veen has been working at Google for more than year. But what has he been up too?
Well, he's been part of the team that has been redesigning Google Analytics. You can read about the whole new experience with Google Analytics to get an idea of what's changing. Or read a great overview from Avinash Kaushik. Avainash has a ton of screen shots of the new interface, highlighting a number of new features. Last thing, take a tour of Google Analytics new features and design – definitely worth watching.

Of course reading this in Jeffrey's blog this morning, I jumped right over to my Analytics account to see the updates. I was a bit saddened to see the same interface. I soon learned that the updates will happen to everyone's current Google Analytics accounts over the next few weeks.
All I can tell you is the changes look incredible. As do some of the new features. Can't wait until my account is updated.
Are you using Google Analytics? Do you find it to be useful?
Thanks to Jeffrey Veen for use of the new Google Analytics screen shot.
UPDATE: I've found a bunch of others who have done reviews of the new Google Analytics.
First Look: Google Analytics Launches New Interface and Reporting
Google Analytics Gets A Pretty Reporting Interface
Google Analytics Redesigns
Google Analytics Relaunches
Google Analytics Relaunched
Google Upgrades and Re-launches Analytics