I use Google for a lot of my search needs – sites, blogs, images, video, mapping, addresses, reviews, etc. The list goes on.
But I've always wondered if Google is always the best option.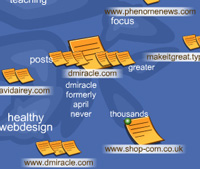 Well Phil Bradley has compiled a list of what he calls Finding What You Need With The Best Search Engines. I've looked over the list and found the usuals like Google, Yahoo! Search and MSN Live Search for keyword searches.
But there's some other gems in the list. Like using Encarta and Answers.com for facts searching or GooFresh for new additions to Google. KartOO, of course, gives some beautiful, visual search results (try it if you haven't) and can be fun to use. I'd never seen Quintura before, but I can see its usefulness. It displays search results with a tag could of similar search keywords.
There's lots of good stuff on his list. Much you've probably seen but some I'm sure you haven't. So take a look, and let me know what gems you find.
By the way, he plans to continue updating this list on a regular basis. Maybe this is a resource to bookmark.