The blogosphere is full of great blog plugins. But great doesn't necessarily equate to usable. And I find Snap Preview Anywhere to be one of the not so usable.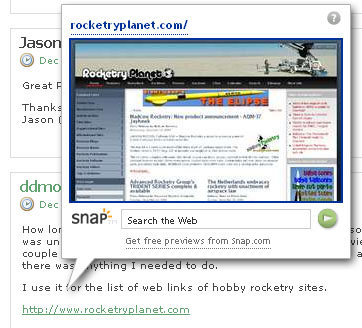 Yeah, like you, I thought it was one of the coolest things I'd seen when I first saw it in action. I mean, come on, who wouldn't like an attractive, live popup window that gave you a preview of the site page you're about to click on.
But soon the novelty wore off. Soon I saw Snap as a pain the rear-end. I began to dread mousing over links on blogs for fear that Snap would lurking. It really got in the way of me enjoying my blog reading experience. I found myself not wanting to click links on blogs that I knew used it.

It's not that Snap Preview Anywhere isn't a good idea. I may just be that it's not ready for primetime. Ben Yoskovitz cites in his post Say No To Snap Preview Anywhere:
It can be slow to load
It sometimes hovers the preview popup image over text I'm reading
It's distracting
Nick Wilson goes on with 3 Reason Why Snap Preview is Ruining Your Blog and Hurting Your Readership:
Accidental triggers: …the unintentional triggering of the SPA popup is distracting, at best. It draws the eye away from the task at hand
Click stalling: …when trying to click a link…I have to click several times to get the damn thing to work.
I trust you:…despite…being really busy, im at your blog! …if you're linking to it, that's good enough for me.
I've had the same experiences and frustrations with this little plugin. Isn't it about time we all just stop using it?
Darren Rowse at ProBlogger disabled it and he's certainly a good lead to follow. Darren Barefoot's Not Feeling It. The Montoya Herald says, It's a bad idea, dumb bloggers love it (though I can't support the name calling). Lorelle has even gone so far as to publicly apologize to her readers for having used it. Others who tried it are disabling it as well.
Now to be fair, there are some who love it and I don't want to make them wrong. Who did you install it for? You or your readers? If the answer is the latter, then you need to poll your readership to see whether they like it. If so, keep it. If not, or if it was just some 'awesome tool' you wanted to add to your blog, reconsider. So due what Darren did and ask your readers.
The bottom line, blogging is about your readers. If everything you do with your blog is for them, they will come, read, return and possibly spread the word. If, however, you're blogging for yourself, then likely you're going to be the only one regularly reading your blog. It's all in what you want.
What's your experience with Snap Preview Anywhere?
(note to Ben, giving proper credit, I borrowed the image off your site. If there's any problem, let me know. Thanks, in advance.)