Want to experience an interesting experiment in how our brains work?
On a recent blog post, 20 Surefire Ways to Beat Writer's Block, we were discussing methods for working through write's block. Mark Tillman Tillison of Tillman Tillison Consulting (sorry for the typos Mark) offered the very interesting idea that:
…writing (or typing) using colour can also be very effective (in overcoming writer's block).

This works because creative and technical processes are handled by the two different hemispheres of the brain. Using colour helps the two hemispheres to work together.
Funny, I'd never thought about it using different colors to help stimulate different parts of the brain when I write. I'd love to know more about it. Have you had any experience with this?
What I found even more interesting was a link to The ColorText Brain Teaser that LaurenMarie of Creative Curio added during the conversation.
The ColorText Brain Teaser was put together by Phillip Miller Eberz who say something similar posted on a middle school wall in Texas.
The basic idea is to see how easy it is to trick the brain through association. You have to try it…
Below is an example of The ColorText Brain Teaser. You do it by saying the color of each word. Be careful not to say the color named by the word. Example: if you see Blue you would say "red" because the color of the word blue is red. It's harder than it looks. Give it a try…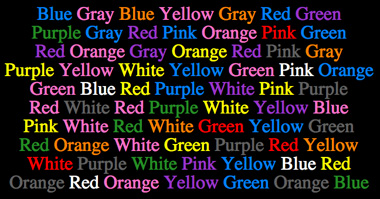 Now, I have warn you, it's very easy to trick yourself. Try saying the colors out loud. Or better yet, say them in front of someone else so they can check your accuracy. Then, tell what you think.
I didn't get six words in without making a mistake. And I've done this a dozen times and haven't made it through once without making a mistake.
I'd love to hear how you do. How far did you get before making a mistake? Tell me about your experience.