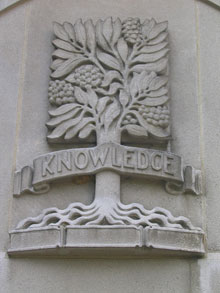 People want what you know!
They want your stories, your perspectives, your perceptions and your ideas. And in some cases they want your help or they want to learn how to do what you know. Either way, they appreciate the value your blog adds to their life or their business. The value, after all, is why they're spending their valuable time reading you in the first place.
I was ruminating on this while reading Liz Strauss' new informational product – an ebook, The Secret to Writing a Successful and Outstanding Blog. In her book, Liz walks you through how to use your blog to create conversation and grow a community. You get insights and suggestions from someone who has close to 70,000 comments on her own blog. I absolutely highly recommend it. And just to be transparent, I did help her a bit on the development and distribution, though I do not receive any royalties from it.
One interesting thing about Liz's book is that it was created from content she had published on her blog over the past two years. When she came up with the idea to create her informational product, she went back through old posts to use the ones that would fit as content. In all, the core of her ebook is the content from her blog.
Now Liz took the content for her informational product from posts she'd previously written. It worked great for her and if you've been writing a while, I'd highly recommend considering developing your own informational products from previously written posts.
Yet, there's another way to approach using your blog to develop informational products – one that serves product creation and post content at the same time. You can develop and write your info product from new content you post to your blog. With a little planning, it can be simple:
First thing is to consider what informational products your audience would be interested in buying. Look at what posts were the most read and most commented on. Also, ask them through polls and short surveys.
Outline the major content themes for your informational product. Whether you mindmap or outline, doesn't matter. Just get down a basic structure for what's going to be included in your info product. This will help you focus on your info product's content as well as blog content.
Further define your informational product outline. You have the major points, now get specific. What are the individual talking points that your info product will cover? Get as specific and detailed as you can. Layout the entire product so that you can see exactly what needs to be written in order to publish your info product.
Create a list of blog post topics. A checklist works fine or just an outline. Either way, translate all the talking points into a list of blog posts you can write. That way, you'll know exactly what you'll be writing about in creating your informational product.
Create a special category on your blog. Ideally, this category would be invisible, but it doesn't have to be. Be sure to put all blog posts that you'll use for your information product in this category. When you're ready to compile and edit your posts into your info product, it'll be much easier to find them all.
Write. Now that you have your plan, your outline and your post topics, now it's time to write. In this case, write quality posts. As you write, make sure you're thinking about how each post will fit into your informational product. Also, don't feel pressured to make every single one of your next posts for your info product. Write about other things when you're inspired too. Just remember to return to your info product content.
Get feedback. Watch the comment box closely whenever you write content for your informational product. Your readers will give you great insight both into what they're interested in and how they think about the topic. Utilize this to create a better info product. And don't be afraid to change your info product based on what you learn from your readers.
Compile your content. Once you've written all the pieces of content for your informational product on your blog, compile it. Get it from your blog into your favorite word processing or desktop publishing software. Try to put it together in sections as you've laid out in your outline.
Edit and layout. Now, with your informational product content all compiled, begin editing. Read for content and for flow. And remember to edit for voice. It's likely you wrote differently on different posts so be sure your voice is consistent. Also, begin laying out how you're info product will look in structure when finished. You can do this with editing or after – it's up to you.
Proof and correct. Once you've finished your edits and your layout, get a few trusted friends and colleagues to read your information product. Get their feedback on flow, content, clarity and value. If there are exercises or to-do lists, ask them if they are easy to understand and clear to follow. Highly consider any corrections that your proofreaders suggest.
Decide on your format. Once you have a completed version of your informational product, you need to decide on the format to publish it too. When deciding on format, consider whether your info product will be delivered electronically or by post. If you've created a book, PDF works great electronically and bound publishing for sending by post. Audio can be distributed electronically as mp3 or by post on CD. For video, DVDs work great by post while Flash video, MPEG4 or QuickTime work great for electronic delivery.
Price and payment. While you can certain go through this process to create free products – which I do recommend, you should also consider creating informational products for sale. That means you have to decide on how much to charge and how you'll receive payment. There are many ways to decide cost, including comparing to what others are doing. Maybe start with a lower introductory price to get some initial interest and raise the price later. As for payment, PayPal works fine in most cases. They give you a method to collect money and a shopping cart, if you need one. It's the easiest and cheapest to setup. Otherwise, you're looking at a shopping cart like 1ShoppingCart and an online merchant account like with Authorize.net.
Write your landing page. Once you have your informational product finished, you know the cost and how you're going to collect payment and manage delivery you have to have a place to put it on your website. Often this means a landing page. While you can find many great resources on how to write a landing page, the basics are that you write customer-focused copy that illustrates how your info product solves their problem. Focus on your info product's content but do so by highlighting how your info product will benefit the customer. Remember testimonials – which you can first get from your proofers – and endorsements from well-known sources, and a money-back guarantee. And please make the price and the buy buttons easy to find. Last word of advice on landing pages – don't get bogged down by trying to make it perfect right out of the gate. Write the best you can, publish it and then tweak it later.
Market your new informational product. With your informational product completed and your landing page written it's time to get the word out. But don't just announce it on your blog – cover pieces of it highlighting, again, the benefits. As your proofers, endorsers and blog friends to do the same. Consider creating an affiliate program around it so people can make a buck promoting it for you. Ask friends to market it to their ezine lists or mention it in your forum. Run a contest with prizes for anyone who buys posts about it. Get it reviewed. Use your social networking contacts to help with the push. Basically, use everything you can think of to get the word out. And don't forget to publish articles to article banks that focus on specific parts of the content and link to your landing page.
Get AND USE feedback. This step is often missed and yet very important to the long-term success of your informational product. You want to encourage people to share with you their experiences with your info product. Ask them for feedback. Send them emails or cards by post that ask them a few specific questions about the product. Even better, get them to a short survey for feedback. And absolutely, without a doubt, continue to get testimonials and endorsements. Then USE THEM on your landing page and in your marketing campaign.
Create great informational products and you'll have something that you can sell for a long time. That means a stream of passive income. Do this a few times and you'll have a fleet of info products with the potential of a significant, long-term passive income stream.
By using your blog to develop your informational products, you can serve to needs – writing great blog content that benefits your readers while create an info product that can generate sales and passive income.
Which leads me to the questions: Have you ever considered using your blog to develop an info product – whether with new or previously written content?
If you have, what were some of the barriers you faced and how did you overcome them?
And if not, what stands in the way of you creating and offering your own informational products?
Let's talk about it.
(note: image from Knilram on Flickr,

some rights reserved)