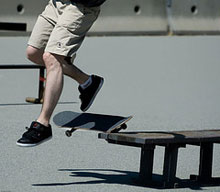 We all want to talk about success in our small business, don't we? How we overcame this obstacle to come out the other end successful. Or how we fought for our vision to create the business we want. The media is filled with stories of how 'one man (or woman) beat the odds and became success.'
Yet what we seldom hear about are the business lessons that led to that success. Lessons that weren't born from knowing exactly what to do and succeeding. But business lessons that were forged out of trying something and having it not go the way you want. Business lessons that come out of failure.
Failure provides an immense opportunity.  Sure, success provides opportunity as well. But I'll venture to guess that if you consider the most valuable lessons you've learned in your business, they come from things that didn't work. Or at least didn't work the way you expected.
The opportunities failure provides are much different than the opportunities found in success.
First off, when you're successful it's easy to get complacent. It's easy to stop learning, to rest on your laurels, or to just try to repeat what made you successful over and over again. But when you fail, you're forced to changed. You're forced to evaluate and reevaluate why what you tried didn't work. The lessons you take away from trying something and having it not work can be invaluable to your business.
Secondly, success provides stability – which can be great – while failure provides uncertainty, unease and hunger. Have your first major setback in your business and you'll find out how much you really want to be in business. And that's a good thing to know.
Lastly, failure is what leads to success. Before you can succeed, you have to try. And in the trying comes a likelihood of failing. But failure simply means you tried. Everyone's heard the famous quote by Thomas Edison when he talked about all the failure that led up to inventing the  incandescent  lightbulb:
"I didn't fail ten thousand times. I successfully eliminated, ten thousand times, materials and combinations which wouldn't work."
I don't his outlook as some trite sound bite about how sexy failure is. Rather, I see the brilliance in setting a goal and working toward that goal, regardless of the odds. I see the perseverance it takes to be successful – as a parent or spouse, in life and in business. I see the hope that Thoreau expressed so well when he said:
"If one advances confidently in the direction of his dreams, and endeavors to live the life which he has imagined, he will meet with a success unexpected in common hours."
The key here is 'advances confidently in the direction of.' That's how to approach your business. That's how to fail well. And that's how to meet with 'success unexpected in common hours.'
What are your thoughts?
(note:  image from  eyesplash Mikul on  Flickr,  

some rights reserved)