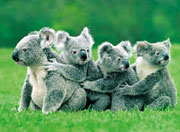 Believe it or not, I've actually said this to a few clients – that conversational blogging is like a conga line. I know it's sounds funny, but it's true.
Think about it.
When do we conga? Usually at a party. Well, isn't conversational blogging is like a party?
Someone has to start the conga, of course. Who's that? It's me! (or you, if it's your blog)
Da-da-da-da-daaa…DA! – enough said!
You know you want to join in, but you're afraid of looking like a fool. Sounds like commenting.
Some conga lines just go on forever.
You thought I was kidding, didn't you? But I wasn't. Conversational blogging is really like the conga. And to participate, you've gotta join in.
Of course, I wouldn't have thought to share my blogging metaphor if it wasn't for Char's How Do You Explain Blogging to Your Mom? You've gotta take a read – she does a great job comparing blogging to a farmer's market. Lara even picked up on the theme.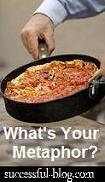 Liz also inspired me by beginning her Group Writing Project: What's Your Blog's Metaphor. Mine, is the conga. There are others. But this is the one I want to share right now. Perhaps more will come out later.
Other's have picked up the writing project with some great entries. Karin thinks of blogging as Business Network International while Des sees blogging as a cocktail party. Kathy makes a nice relationship between blogging and exercise.
Off of Ian's Messy Desk comes the idea of blogging being like Forrest Gump's "life is like a box of chocolates". Just so happens that I'm a big Gump fan myself. Forrest would have been a great blogger…"stupid is as stupid does". Or…"from that day forward, if I was goin' somewhere, I was runnin'!"
Lots of people see blogging related to food. Juggling Frogs compares blogging to a smorgasbord yet Word Sell sees it as The Salad Bar. The most interesting food comparison, though, comes from Mike – who sees blogging as Feeding on Plankton.
So how do you see blogging? What's your blogging metaphor?
You know I have to tag a few people. So I'd love to hear from Adam Kayce, David Airey, Chris Cree, Kammie Kobyleski, Kent Blumberg, Barry Zweibel, Sean Rox, thepaperbull, Mark Goodyear, Randa Clay and the Purple Wren.
That's a lot of folks, huh? And I still want to ask you…what's your blogging metaphor? And, tell me how you see blogging to be like a conga line.
Koala photo from FunnyZoo.
UPDATE: Be sure to let Liz know about your blogging metaphor post so that she can give you all a little link love.