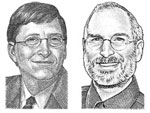 Last week the D5 Conference wrapped up with a rare sit-down interview with both Steve Jobs and Bill Gates (full transcript).
There's been a lot of posts written about the interview. Many folks have covered their relationship or the relationship between Apple and Microsoft.
I watched the entire interview (below is a highlight reel) as well. It was great to hear them answer questions and tell stories from each of their perspectives. And it's certainly interesting to hear the humorous moments where one took a jab at the other – like with PC Man or Zune.
But I came away with a different perspective on each man. And ultimately a richer understanding of what makes Apple and Microsoft different.For the record, I'm a Mac user. Also for the record, I don't hate Microsoft or think of Bill Gates as a bad man (though I think Steve Ballmer is a bit scary). With Microsoft I'm simply frustrated…frustrated that as a whole they can't design products that work as effectively and efficiently as Apple does. And the design appeal goes without mention.
And that gets to the core of what I learned watching Steve Jobs and Bill Gates discuss how they see the computer industry.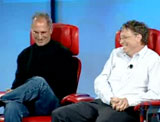 Bill Gates sees the world as a software engineer. And his focus seems to be on what software can do in interacting with the computer. He admits in the interview that "…if you look inside my brain, it's filled with software and, you know, the magic of software and the belief in software."
Steve Jobs, however sees the world from the perspective of the user. For Jobs software is important. But what's most important is how the user (you and I) will actually interact with the software.
That's easy to see in the Mac, the iPod and the coming iPhone. It's certainly about software for Jobs, but software to enhance and make easier the user experience.
I had never seen that so clearly before until I watched the interview. But Gates seems to know that about himself and Jobs. At one point he said, "I'd give a lot to have Steve's taste. [laughter] He has natural–it's not a joke at all. I think in terms of intuitive taste, both for people and products… We sat in Mac product reviews where there were questions about software choices, how things would be done that I viewed as an engineering question, you know, and that's just how my mind works. And I'd see Steve make the decision based on a sense of people and product that, you know, is even hard for me to explain. The way he does things is just different and, you know, I think it's magical. And in that case, wow."
And there you have the difference between Microsoft and Apple.
Turning it back to conversational blogging…is it about the software we use or the experience our users have? Where does the conversation happen?
If you're interested in the full interview, here it is in 8 parts…
UPDATE: If you use iTunes Music Store, here are direct links to the podcast and video podcast. Thanks to Mike Rohde for letting me know they're available. And, this is the only way I know to see the video in its entirety.