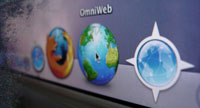 What browser do you use?
Being a Mac user I hardly ever think about Internet Explorer except when I'm coding and testing websites. Primarily I use Camino (love it) and Safari (now available for Windows). Sometimes I open Firefox, though most for StumbleUpon. And I really love OmniWeb's thumbnail tabs. And, of course, I didn't mention probably the best browser I don't use much – Opera. Okay, maybe I have a bit of an obsession, but each of these have some great features that the others don't.
But most people, however, don't use multiple browsers. They choose one browser and stay with it. And it appears more and more people are choosing Firefox.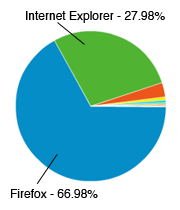 And that's exactly what my stats in Google Analytics showed me this morning. Two-thirds of all my site visitors this year are using Firefox. And less than one-third are using Internet Explorer.
Now I do have a bit higher rate of Mac users – around 12%, but that certainly doesn't account for the huge percentage of Firefox users.
What I'm thinking is that a large number of bloggers use Firefox. Why? And why are so few using Internet Explorer? And what does this say about browser trends?
An article from Popular Science that I saw predicts that by 2009 Firefox's market share could be as high as 50%. When I read it I thought, "no way." But looking at my stats makes me think otherwise.
Then I found a post from PC World reporting that Firefox's market share in Europe is nearing 30% – almost double the U.S. market share.
Does it matter?
I'm not sure. But maybe you know. I'd love to hear your thoughts.
What browser is most used in visiting your site?