Does blog comment spam really work?
I guess it must because it just keeps increasing. And not only increasing, but it's getting harder to spot – especially for those of us who often get a lot of comments and get a lot of spam.
Take a look at this image. Look at it closely.

Looks like a benign comment at first glance, right? But look closely at the text in the next image: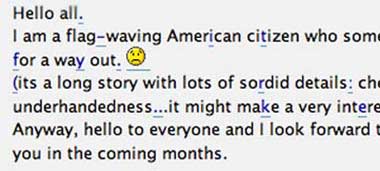 Notice all the little blue underlines under some of the characters? Each one of those is a link. Hard to see, huh? And if you weren't looking for them, you might think this is a legitimate comment and let it through.
But it's not a legitimate comment – it's spam. All told, this comment had more than 25 links in it. It's just, as you can see, they're under individual characters – making them hard to spot at a glance.
This comment spam thing is a real pain in the rear. Darren Rowse even wrote about the cost of comment spam to our blogging. Can you imagine how much spam Problogger or Scobleizer get?
That's why I'm siding with Lorelle:
You cannot stop comment spam on your blog…Comment spam can only be stopped when comment spammers are stopped. The efforts you make on your blog only stop comment spam from reaching the public eye.

…I've put out a call repeatedly to bloggers (read her post on The Blog Herald) to use the power of their blogging voices to put an end to the rewards of being a comment spammer. We need to put comment spammers out of business. Anyone listening?

As a united voice, I believe that the same creativity and sense of community spirit that built MyBlogLogs, MySpace, FaceBook, and Digg can put their energy into stopping the virus that infects all of us.
We know what spam bots do and can watch their behavior. I agree with Lorelle, we can't stop spamming unless we stop spammers. So what can we do about it? Any ideas? Know anyone who might have an idea?