We all want more traffic to our websites, right?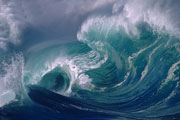 We dream of the day that we get that massive wave from Digg or StumbleUpon. And when we do, it's a rush, right? We watch our stats climb by the minute – 500….1,000….5,000….10,000 visitors – "oh God, don't let it end!"
But it does end. It ends as an ocean wave ends: breaking on the shore, splashing its wake up the sands and retreating once more to whence it came. Such it is with our blog traffic.
These social content sites are great, don't get me wrong. And I'm not suggesting not to use them. I use them and will continue too. But the deluge of traffic they bring can often give us a false sense of our blog's health.
Essential Keystrokes' Char wrote about this recently in her Web Traffic – I'll Take Quality Over Quantity. In her post, she explained how the traffic she got from Digg in a recent post was matched, and in quality perhaps surpassed, by a link in a post from a prominent blogger like Darren Rowse.
Now, don't run out and link to Darren or Brian Clark thinking that's the way to get traffic. Though it could be if you're doing what Char does – write great content. Which is why Darren picked up her link.
But how did Darren find Char to link too? The relationship, of course. Darren had to know Char exists in order to find a link to her. That begins with the relationship.
Same is true of another good friend, Adam Kayce at Monk at Work. Recently, he had a post picked up by lifehack.org. Adam's blog is fairly new, yet growing at a nice rate. However, when he got picked up by lifehacker, he got a nice, large traffic blip with a number of first-time commenters. His traffic has increased by a nice rate since. But most interesting is that his feed subscribers almost doubled in the few days after.
So even though social content sites are certainly useful, it seems that writing great content and building relationships is the key to building traffic.
What's been your experiences? Am I right….wrong….short-sighted….somewhere in between?