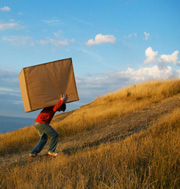 Oddly enough, I was outside the box thinking about thinking outside the box just the other day.
What I discovered was something interesting…once I was outside the box, I was free. I could run, dance, play all I wanted. There were no boundaries, only wide-open spaces. No responsibilities, no deadlines, and no structure. Just unabated freedom.
But that wasn't the interesting part. Being footloose and fancy free was fun, for a while. That's right, for a while.
After a short time, however, I got board. I started looking back at the box. I moved slowly toward it. And when I got near, I peered inside. I realized the box wasn't that bad. It provided structure and boundaries that made me productive. It also gave me sense of purpose since I was responsible for my clients, my family, myself.
Soon, I saw the box not as a prison, but as a container. A container with limitations, sure. Yet as romantic as it sounds to be completely free, it's the limitations that give our lives meaning. Without them, we'd never accomplish anything.
You see, what I've learned is that our boxes aren't bad things. They're quite the opposite, actually. They give us perspective on where we've been, where we are and where we want to go. It's good to think outside the box, otherwise you'd never grow. And the funny thing about growing is that soon you should out grow your box and need to build a larger one.
Are you thinking outside your box? When's the last time you built a larger one?