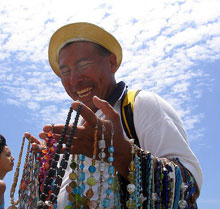 So many people I know are hesitant to sell. They're hesitant to sell themselves. They're hesitant to sell their products or services. And they're hesitant to sell their business.
It's easy to understand, right? As soon as I mention the word 'sell' what goes through your mind. For me I think of the pushy people in the appliance store. You know, the vultures hovering around waiting for the next carrion to fall through the door. Or the guy at the car dealership who goes through some pavlovian response the minute you have a question.
We just don't think well of selling, do we? Which means we probably have some idea that stand in the way of us selling, as well.
But we don't have to be obnoxious to sell. The obnoxious ones are not the best salesman. The best salesmen sell you without you ever knowing they were selling to you. They engage you, understand your need and help you fill it. That's it.
And that's exactly what happened to us Saturday night at SOBCon. Denise Wakeman, Ruth M Sylte, Randy Windsor, Director Tom, Shashi Bellamkonda, Tojosan, Adam Kayce and I all headed to Vong's Thai Kitchen for dinner. We were hunting for good food and great conversation. What we got was one of the best sales experiences I've had in a long time.
You've been to dinner. Even in a nice restaurant, your waitperson usually greets you, shares the specials and then asks for a drink order. They scamper off and return shortly with your drinks and to take your order. Sometimes they may ask if you want an appetizer. But overall, it's usually a version of this experience in just about any restaurant.
But not with José at Vong's. After getting our drink order, José gently ask for our attention. We all pick up our menus and are guided by José through some of his favorite dishes as well as the house signature dishes. But he didn't just point out or describe each dish. Rather he brough them alive. He made each dish sound like it was something we had to absolutely try. It was a joy to watch him. I couldn't get the smile off my face. And by the time he was done, I was salivating (literally). Sure, I was hungry. But now my senses were engage in the dinner and I couldn't wait to try the food. Really, this was probabaly the best example of selling that I've ever seen from waiter.
José's presentation was so good, that we talked about it around the table for a few minutes afterward. Now how many restuarants have you gone too where you talk about the waiter's 'sales pitch' when they walk away? There was absolutely no push. He did this so naturally there was no feeling that we were being sold too. Yet each of us, to a person, couldn't wait to try the food.
So what did José do that was different than every other waiter I've had in the past few years? Better yet, how can you use his tactics to better sell your products or services?
Don't sell. If someone's contacting you, they have some level of interest already. In José's case, we were sitting down at a table in restaurant so we were obviously hungry. What he did was not try to sell us a dish or an appetizer. Instead gave us information we needed to make good meal choices.
Engage people. One of the most impressive things about Jos̩ was that he was engaged with us fully. When he took us on the tour through the menu, I felt like he was genuinely interested in me getting the perfect meal for me. Not the upsell or add-on and not the meal he liked Рbut the meal I would love.
Be authentic. Oddly, it takes practice to be natural in sales. But just being yourself is all it takes. Use what you're comfortable with in yourself when you're selling. With José it was clear that he is a warm and caring person by nature. So he allowed that in his sales presentation to make each of us feel like he genuinely cared about how much we'd enjoy our meal.
Be transparent. Be real with people. If you don't know something, be honest about it. There's nothing wrong with finding out the answer and getting back to someone. There was a point later in the meal where José was uncertain if the kitchen could prepare a dish a certain way, so he excused himself, asked and returned with the answer. Didn't dimish our experience at all.
Know what you're selling. To be comfortable with what you're selling, you've got to know it. Even if you're the product or service creator, you really need to know what you're selling. José knew the menu like the back of his hand. Hence, he was able to answer questions with confidence and certainly.
Know who you're selling too. This is so often missed…you've got to know who you're selling too. Not the person so much, as their need, their likes, their dislikes. That means, listen. Listen to what their need is first. I watched José closely. During the drink order (before the menu presentation) he went around the table and got to know each person just a tiny bit. I didn't ask him, but my guess is he was getting a small idea what each of us would enjoy for dinner.
Match their problem to your solution. If you've listened well, people wil often tell you what problem they've called you for help with. Assuming, of course, that you can solve their problem, match your solution to their problem. Don't get them to change their problem so you can sell them your solution. José asked a few of us what we had a taste for. He listened first, then made suggestions from what he learned.
Remember, it's okay to sell. Selling isn't a dirty thing. Really, we're selling all the time – our thoughts, our ideas, our beliefs, etc. So selling is natural. The oddities come in when money's involved. And there's nothing wrong with selling what you have to someone who needs it and making money, even a lot of money, from it. It's just an exchange. José's efforts left him with a huge tip. Network Solutions picked up the bill (thanks again, Randy and Shashi). So we left José an enormous tip. Isn't that ultimately why he does what he does? Nothing wrong with that.
Really, I'm skimming the surface here. The important point, I think, is that proper selling has nothing to do with the sleezy, obnoxious vultures who have given selling a bad wrap. Selling done well is an art form. And how do you get better with your art…be authentic, be transparent and practice your technique.
I'd love to know what you best sales experience has been.
Even better, what do you do to affectively sell your products or services? And if you find selling difficult, what could you do better?