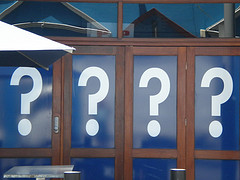 Do you consider your coaching business or healing practice successful? Or is your small business causing your duress?
If it's the latter, there are steps you can take to help you go from business duress to business success.
Last week I introduced 4 simple questions to help you start and grow your business. They are the same 4 questions I use with my clients every day. They're purposefully simple. Yet behind their simplicity lies all the depth and detail you need to create a successful business. Answer these questions fully and you'll be on your way.
So let's review what the four questions are:
Who you are?
What you do?
Who you do it for?
Why do you do it?
Pretty simple, huh? Now answer them. Get our a piece of paper and write down your answer for each question. Go ahead. I've got time to wait for you while you do so.
Now, take a look at your answers and see what you've written. Is there a question you couldn't easily answer? Is there a question that you couldn't answer clearly at all? Be honest with yourself – your prospective clients will.
Now, let's go a little deeper. Each of the four questions has layers – layers of detail, layers of information, and layers of complexity. Let's break it down a bit:
Who You Are…?
First, as a human being. What are you talents, your gifts and your passions? What are your shortcomings? What areas of your life could you use some help with? What areas of your life do you want to hide from? How do each of these questions translate to your business?
For instance, if you believe you're not a good writer, it's good to know that so that you can do something about it. Perhaps you hire a copy editor or take a copy writing course. Either way, you need to know where your strengths and weaknesses are so you can either utilize them or get help.
Once you identify who you are as a person, as I mentioned above, you want to know how you – as a person – translate to a business owners. Are you organized? Do you use systems? Do you outsource any of your tasks? Do people tend to feel comfortable with you? Do you have any issues with selling (read: Hate Selling, Well You're Doing It All The Time)? What knowledge do you have of using your website or social media to promote your business? How effective is your marketing strategy? The list goes on, really.
Ideally, you want to be asking yourself how you are with every aspect of owning, running, promoting and evaluating your business. And don't worry if you don't know something or have large gaps in your abilities. All you have to do is ask for help.
What You Do…?
The primary answer here, of course, has to do with what you do for a living. In other words, what are you in business to do?
But it goes deeper than that. You want to also consider what your service actually is and does. Meaning, you want to consider your business offerings from the stand point of what problems they solve for the people in your target audience. In essence, you're not just providing a service but providing a way to solve problems in people's lives.
For instance, let's say you're a life coach who helps women through career change. Your offer is likely so much more than just a career coach. You may have a background you can call on that gives you a market advantage. You may have gone through a career transition yourself. You may be able to provide emotional or psychological support in a different way than your peers. Whatever the offer you make, just be certain that you're bringing your full self, with your complete background into play here. Just remember, what you do includes what you have done.
Who Do You Do It For…?
As with the previous question, this one helps you focus more precisely on what you actually have to offer. In this case, it's not about the offer itself, but who you're offering it to.
Who do you do it for asks you to go deeper than demographics. You don't just serve, for instance, women between 45 & 60 who are looking for a second career. You want to narrow your focus down to a specific type of client who fits perfectly into your specific set of abilities.
And you want to think of what problems the people in your target audience are facing. What sort of stopping points are they hitting as they are, for instance, going through a career change? Speak directly to those in your marketing.
Ideally, who you do it for is one person. Just remember that there are 100's if not 1000's of that one person out there waiting to find you and your service. Make it easy on them by identifying exactly who you help.
Why Do You Do It…?
Ultimately, this may be the most important question of all to ask yourself. After years of working with hundreds of clients on their websites and coaching them on increasing their business, I've found that the most successful business people make meaning.
While making meaning may not be, in the short term, the more important than knowing what you do and who you do it for, eventually it will be. That's because as business owners, we need to make meaning. It may sound airy-fairy, but it's true. I've seen it with dozens of clients who are successful in one area but burn out because the business they made successful isn't making the meaning they want in the world.
So your business, to be successful, needs to make meaning. And it needs to make meaning to one person – you. It doesn't really matter what I think or anyone else. What matter is that your business makes meaning to you. In other words, you are contributing something important to you to the world.
Do you know what that is? Do you know what impact you have on the people you touch? Do you know how your offer is making meaning in the world? Take it deeper…
The key to a successful business is clarity
To create, grow and maintain a successful business you need one thing more than any other – and it's not even talent. You need clarity! Clarity with your business will set you free from the confusion most small business owners face.
So why don't more life coaches, holistic practitioners and other service-based business owners take the time to find clarity?
Lots of reasons, really. The biggest one is likely fear of something. Fear of hard work. Fear of not being able to do it. Fear of being boxed in by a vision and plan. Fear of putting in the effort to get clarity only to find that you have none. All these, and more, get in the way of you finding clarity and, hence, stop you from growing a successful business.
But you know the neat thing? You don't have to get that complex. Fear is a complex thing. Fear is what makes the process bigger than it needs to be. All you have to do is begin by answer the three questions – who you are, what you do and who you do it for. That's it. These are the seeds you need to plant, then nurture, so they can germinate and grow into a living, thriving business.
And let me know how it goes…
How well can you answer the 4 questions in your business?
Let's talk about it.
(note:  image from  mikecogh on  Flickr,  

some rights reserved)