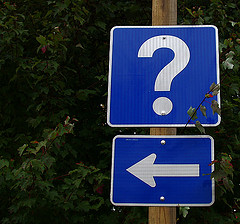 So, you want to start working with clients – great!
Depending on who you listen to, there's so much you need to do in order to successfully launch your business. It doesn't seem to matter whether you're a life coach, business consultant or holistic healer, launching a successful business takes time, energy and even a little bit of money.
More than anything, you need a plan. You need to know what you're about and how your service will help other people. That's the first step. Some would say you next need a business plan, a marketing plan and a clear revenue model (you do need to know how you're going to make money, after all).
But I think it's much simpler than all that.
Sure, a business plan is good. I coach my own clients on creating business and marketing plans so they can both keep themselves on track and see their progress. So using traditional business plans is something I highly recommend.
Yet, I've found it helpful to begin any service business with 4 simple questions. These questions provide the foundation for all else. Answer them fully and you'll have the beginnings of your business plan, an outline for your marketing plan and you'll know how you'll make money. You'll also have an idea of who your client is and what their needs are.
What's more, these four questions give you a chance to simplify the whole business development process. You may still want to formal business plan or work through how you'll market your business. Yet it can be less necessary as long as you can stay focused. I've had a handful of clients take just the answers to these four questions and go on to both build successful life coaching and holistic healing practices.
So what are the four questions?
Who you are?
What you do?
Who you do it for?
Why do you do it?
See how simple this is? Now there can be other questions to add. Depending on the client I might add 'how do you do what you do' or 'what do they need.' But honestly, even these questions are pretty much covered in a thorough answers to the four questions. Plus, I find simplicity wins out most of the time.
Now I know that the answers to each of these questions can be full of complicated processes, complex systems and overwhelming business structures. And having run a business for more than ten years, I know there's much to do to be successful.
Yet clearly answer those four questions and you have a basic business plan. Answer the four questions and you have the outline for a marketing plan. Answer the four questions and you have, at least a beginning, for how you're going to make money in your coaching or healing practice.
To be continued…
My Friday post this week will dive a little deeper into the four questions. We'll take a look at just how answering these questions leads to a solid plan that even you can execute. And we'll see what happens if you don't know the answers to these questions. So stay tuned…
In the meantime, I want to hear from you. How would you answer the four questions on your coaching practice, holistic healing practice or other type of service-based business?
Let's talk about it.
(note:  image from  laurakgibbs on  Flickr,  

some rights reserved)