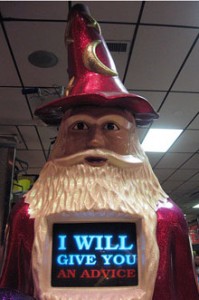 If you're an educator, coach, consultant or advisor you usually want one main thing for your clients – that they use your advice.
That only makes sense, right? They're paying you fees, sometimes large fees, to help them either change something or accomplish something that they just can't manage on their own. It doesn't matter whether you're hired to give advice, as a consultant might do, or be more hands-on in helping with change as a coach might – the desired outcome is still the same.
This sometimes leads to pressure to help our clients get results. A little pressure on the client to change is good. After all, change is seldom easy and often requires a little push to get started (okay, and sometimes a big push).
Yet any good coach or consultant knows that we have to manage our clients and how they progress with a bit of skill. Sometimes we can put it all out there and people get it. Other times we have to pull back a bit and offer change in small steps. So we give each client what they can handle in the way they can implement it best. As I've seen it, this is the art to being an effective coach or consultant – and even to being an effective teacher, parent, spouse, or friend really.
In the years I've been a coach / consultant / advisor (I'm still uncertain what to call myself) one piece of advice has stood out from the rest. It came from the most interesting of sources.
Hannah Whitall Smith was a Christian speaker, author and women's rights activist in the late 19th century. She was an active speaker in the Holiness Movement of the 1800's and was active in Women's Suffrage and the Temperance Movement in the U.S.
Years ago I found a quote which she wrote and tucked it away with thousands of others I have. Then a few years back, I ran across it again. Now as a website designer who was also coaching and advising my clients on how to use their websites to grow their business, it made me stop and consider how I approached my coaching work.
The true secret of giving advice is, after you have honestly given it, to be perfectly indifferent whether it is taken or not, and never persist in trying to set people right.
Stop and think about it for a minute. How would your coaching practice or your consulting business change if you took this approach? How could it change the relationships you have with your clients? And moreover, how could it enhance the results your client's are getting?
What changed in me was the understanding that it's not my responsibility to create change. It's only my responsibility to offer the opportunity. So rather than feeling like I had to create change in someone's business, for instance, I could be more effective by meeting my clients where they are and giving them the space and time to come to change themselves.
Someone once told me that it's not in our nature as human beings to want to share what we know and not see it utilized. It was suggested that it shakes us up inside a bit when people don't do what we advise them. Whether that's true or not is an interesting debate of its own.
Yet what I'd like to know is how this quote might change the way you do business? How might it affect your conversations, relationships and approaches with your clients – even if you're not a consultant or coach?
And maybe the more interesting question of all, if you so choose to consider it, is how could Hannah's advice change your relationships with your loved ones?
Let's talk about it…