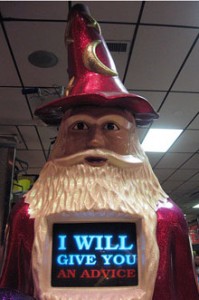 If you're an educator, coach, consultant or advisor you usually want one main thing for your clients – that they use your advice.
That only makes sense, right? They're paying you fees, sometimes large fees, to help them either change something or accomplish something that they just can't manage on their own. It doesn't matter whether you're hired to give advice, as a consultant might do, or be more hands-on in helping with change as a coach might – the desired outcome is still the same.
This sometimes leads to pressure to help our clients get results. A little pressure on the client to change is good. After all, change is seldom easy and often requires a little push to get started (okay, and sometimes a big push).
Yet any good coach or consultant knows that we have to manage our clients and how they progress with a bit of skill. Sometimes we can put it all out there and people get it. Other times we have to pull back a bit and offer change in small steps. So we give each client what they can handle in the way they can implement it best. As I've seen it, this is the art to being an effective coach or consultant – and even to being an effective teacher, parent, spouse, or friend really.