Less than a year ago, my good friend Adam Kayce decided to change careers.
For years Adam was a successful intuitive healer and teacher who helped countless people work with and heal their personal issues and physical diseases. As a teacher, Adam could explain the most complex ideas about consciousness and healing to people in ways that were easy to understand.
It was as a teacher that Adam got his first experiences working with businesses. Soon, he was focusing more on bringing spirituality and personal development into the workplace. And he loved it.
So this past fall, Adam decided to close down his healing practice and begin working as a business coach. Now his focus is on helping people find the "purpose and meaning behind their work, so you can attract and serve the people who love what you do." (his words).
And so was born, Monk at Work.
Why did I tell you this story (other than Adam being a close friend)? Well, in our latest one2one conversation, Liz Strauss asked me…
What do you do when your business is going well and close friend's is not?
My answer…YOU HELP!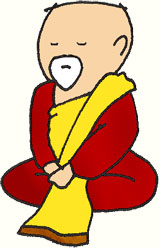 What else could I possibly say?
Like most new business, Adam had to endure the early, lean stages of Monk at Work. All the pieces were in place – knowledge, experience, expertise, great service and products, and…great looking blog (if I do say so myself). What he lacked was clients.
That's where I knew I could help. I knew that I could use my own success to help my friend get started toward his. Of course, it didn't hurt that the core of my work is to help businesses go from where they are to where they want to be.
Adam consulted with me on blogging, marketing strategy and relationship building. We talked a bunch about how to use the conversations on his blog to create momentum around your business. We talked about blogging as a central marketing strategy. I helped him with solutions for increasing his website and product reach. I even introduced him to people who are now fans of his work.
More than anything, I think what I've done is help Adam understand how his website/blog are the foundation for his marketing efforts. And now, Monk at Work is building momentum. Am I responsible for that – not really. He still had to put what we talked about into practice. I simply filled in his gaps in knowledge and helped him focus his efforts using his website/blog.
Do you have a good friend who's struggling with their business? What can you do to help them?
And Liz, since we're having a one2one conversation,
What tips can you offer for writing quality, conversational blog posts and website copy?