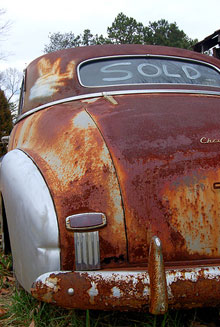 Business is not just about what you do.
Yet, as business owners, we spend so much of our time focusing on how to do what we do better. We read, we blog, we train, we attend workshops and conferences, go to events, network and so on. All under the guise that we can gain some edge in how we do what we do.
But what if the edge isn't in what we do for our clients and customers?
My grandmother buys a new car every four years. And for the past three decades, she's been buying her cars from the same guy at the same dealership. Is it because the Buicks they sell are somehow better than the Buicks at other dealerships? Or maybe it's that this specific salesman does his job better than the other salesmen do.
Certainly he does, to some degree. But I've spoken with him, he's not the most knowledgeable salesman on the lot. He's not the best dressed or most polished either.
Yet my grandmother keeps coming back. She won't even consider buying from another salesman, let alone look at a different make of car.
I've asked my grandmother about why she keeps buying from him. Her answer is a simple, "I like him." Now she doesn't mean that in any flirty way. I've been with her when she's bought a new car and there's no weird flirting going back and forth. It's just that she likes him.
And in their interactions is a little known secret to business success and customer loyalty – feeling. It's not what you do that's important with your clients and customers, it's how they feel about what you do that's important.
Let's say that again:
What you do isn't nearly as important as how it makes your clients and customers feel.
Would you say that's true in your business?
If it is, why do you think most small business owners spend much of their time on the other?
(note: image from Storeyland on Flickr)